Altamaha River Kayak Trip February 8th through 13th, 2009.
<![if !vml]>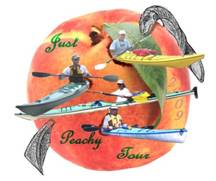 <![endif]>The "Just Peachy Tour" was yet another interesting and amazing kayak expedition trip. The trip was conceived by Dave after exchanging emails with an outdoor writer named Johnny Malloy. Johnny was put in contact with Dave by a mutual friend because he wanted some information for a trip he was planning to Cape Romano, Florida. Dave obliged and then asked for a recommendation from Johnny for a river trip in southern Georgia. He replied with "the Altamaha." Dave wanted to be sure to have cooler weather than last year's trip in the Everglades National Park where they did the Wilderness Waterway round trip in 7 days. The trip was brutal due to mileage and the high temperatures in that area even in mid-February.
So Dave began doing research on the Altamaha using the internet and posting inquiries on several kayak forums. He found this on georgiaencyclopedia.org:
 "The third largest contributor of freshwater to the Atlantic Ocean on North America's eastern shore, the Altamaha River basin lies entirely within the state of Georgia. The Altamaha River, formed by the confluence of the Ocmulgee and Oconee rivers near Lumber City and joined farther downstream by the Ohoopee River, flows more than 130 straight-line miles from its northernmost points to its entry into the Atlantic Ocean."
 Dave's plan called for adding some mileage on the Ocmulgee and also going into the Atlantic so our trip was 163 miles. Another interesting tidbit is that there is a legendary creature referred to as the "Altamaha Ha" that is much like the Loch Ness Monster and resides in the marshes near Darien, GA and the coastal areas. That is the creature on our trip logo along with the peach to signify Georgia. Kind of witty if you ask me!
Map of our trip start = green point at Lumber City, GA, end = red point at Darien, GA.
Blue markers are our campsites and some stops near/along the coast.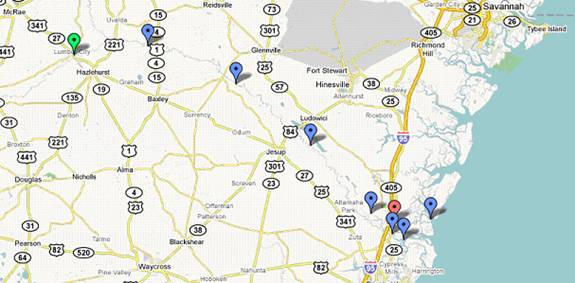 This year our group featured a new member, Sam who saw some of Dave's posts on the Watertribe website concerning long distance kayaking. He wanted to hook up with people of similar skills and interests. Dave put him in touch with Jack who lives closer to Sam and they started paddling on weekends. Jack is an original member of the Paddle Across Florida team and also joined us on this trip. Sam fit in perfectly and we were lucky to have him aboard. The other usual suspects were Stew, Dave, and our cheesehead buddy from Wisconsin, Tom. It was awesome to have 5 ready and able paddlers who all paddled at the same fast pace and enjoyed doing these kind of long trips.
Saturday, February 7, 2009
We met at Jack's home in Hobe Sound at and were on our way after Jack fed us by . Sam and Stew drive to Darien in Sam's truck while Jack and Dave travel in Jack's van. Tom drove in from Merrill, Wisconsin – a 21-hour drive. We all met at the Sailfish Inn in Darien. It is a bed and breakfast and we found it very comfortable and convenient. The proprietor Scottie and her 7-year old daughter Veronika (with a "k") met us and delighted us with Darien history and other stories. If you ever visit Darien, stay there – I hope to revisit for a long weekend someday.
<![if !vml]>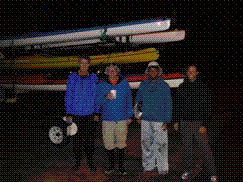 <![endif]>Sunday, February 8, 2009 Day 1
We prearranged with Danny of Altamaha Coastal Tours to shuttle us from Darien to Lumber City at the wee hour of . He left a mini bus and kayak trailer at the Sailfish Inn so we could load the 5 kayaks the night before and be ready for the trip. That was great and allowed us to relax a little in the morning.
The drive to Lumber City took just about 2 hours and along the way we told jokes and were set straight as to how and when to use "youse" and "yiz" in a sentence by Jack who is from New Jersey (don't say he's from Jersey). I still get it wrong. Oh well.
<![if !vml]>
<![endif]>We arrive at Lumber City just after and put in at a boat ramp at the highway 341 bridge going over the Ocmulgee River. Everyone tries to hurry and pack but to also make sure nothing is forgotten. Danny helps out and waits to be sure we are ok and leaves after we launch. We really enjoyed him and he was very helpful/informative – please use Altamaha Coastal Tours if you visit the Darien area. Launch time is at – ahead of schedule! It is very cold for us Florida boys (upper 20s or low 30s) and we are shivering and our hands and noses are feeling stiff as the sun is slowly rising above the trees. It was probably 15 to 20 degrees colder in Lumber City than in Darien. There was ice hanging from the trees! That was ok because we knew there was warmer weather on the way. Thank God.
Day 1 25.5 miles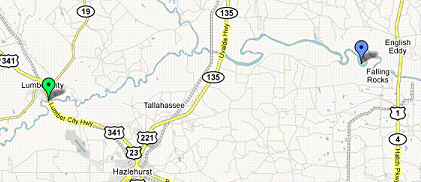 Note where the two rivers combine (the confluence) to form the Altamaha.
Right after launch of a new trip is one of my favorite times. Everything seems good and all the stress melts away. We're on our way - it is exhilarating and a great feeling. The river we are on is the Ocmulgee – it will meet with the Oconee and blend into one at the confluence forming the Altamaha River. I like that word – confluence. We have around 12 miles before we get to the Altamaha.
<![if !vml]>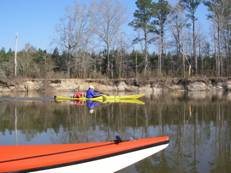 <![endif]>The river banks are strewn with trees caught in the grips of winter. Oak, cypress, and pine were the ones I could identify. I'm sure there were lots of others like hardwoods and bushes of all types. Most of the trees had grey to brown leaves or were bare and there were pine trees whose green features seemed to jump out from the wintry backdrop. We saw lots of nice sandbars and small, sandy bluffs that rise four feet out of the water. Just fantastic scenery especially coupled with the excitement of a new trip just under way and the refreshing coolness of the morning air.
We reach the confluence after two and a half hours of paddling and a break. We didn't know what to expect – swirling, crazy currents and eddies or what? It turned out to be just an intersection where two rivers meet. Some interesting feedback currents that I'm sure would be neat when the rivers are really running. We turn into the Altamaha and find that the current is slower than we had expected but still a big benefit at around 2 mph and a little stronger at times especially when the river narrows. The river was narrower than we had expected which was a pleasant surprise. The few photos I had seen of the river made it look much wider.
<![if !vml]>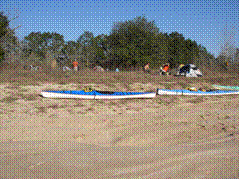 <![endif]>Just before we come to a very large sandbar and know this is the place for our first night on the river. We had covered 25 miles in less than 6 hours which put us 5 miles ahead of our planned mileage for the day. This trip is starting off great. We wanted to shorten our trip by a day because Tom needed to leave a day early. Looks like we will be able to oblige. We set up our tents very quickly and hang out our wet stuff to dry. The warmth of the sun (hey, title of a Beach Boys song) feels really good in the afternoon on a chilly day.
Sam takes on the role of fire maker and sets up a fire pit and collects wood. The rest of us helped a little. I must say that the fires we had nightly were a major highlight of our trip experience. Thanks Sam !! We explored the sandbar and found deer, raccoon, bird and what we think were some kind of large wild cat foot prints. That night we heard owls, coyotes, and pigs in the distance. Beautiful sleeping weather in the 30s and a clear night with almost a full moon. The snoring began around .
Monday, February 9, 2009 Day 2
rise and shine! Brrrrrrr! Cold! Tom is the first to stir as always then the rest of us start rustling around and you hear tent and sleeping bag zippers zzziiiiii…zzziiiii…zzzziiiiip! Then the air being let out of our sleeping mats: whoooosh, woooosh and the fumbling for things in the dark. Meanwhile Sam opts to sleep until (that guy can get ready really fast) while the rest of us leisurely pack up and make breakfast. You hear pots and pans rattling and banging together, water being poured, and the poof! as our camp stoves are ignited. All is well once I've had my first cup of coffee, I even felt much warmer and cheerful. Then I made my daily two packs of flavored instant oatmeal. This was our daily routine and it was nice to not hastily get up and go in order to do big mileage each day. Yes, I love having current – with me.
Day 2 31.8 miles
<![if !vml]>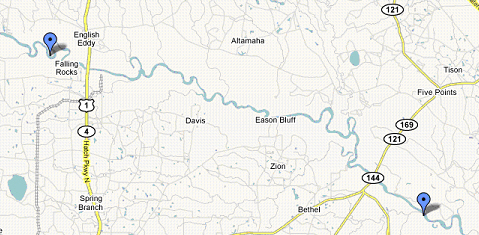 <![endif]>
<![if !vml]>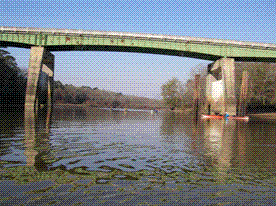 <![endif]>Push off time is around . Wow. Another gorgeous day. More great scenery and we see some signs of people by way of houses, two bridges and a power plant but for the most part, we didn't see anything but wilderness. We stopped every 2 hours for a break and to load up on carbs and had lunch at . As we neared highway 144 or 121 or 169 all the same road (why do they do that?), we were getting ready to stop but we pushed on because we didn't want to hear the highway noise while trying to sleep. We started getting worried because the sandbars weren't as frequent in this area. We finally find a decent spot with ground cover but with dried mud just underneath. It was and we didn't want to continue so we said "what the heck" and stayed put.
It was nice except everything got a little bit of mud on it especially with the morning dew converting dry mud into wet mud. Not too bad though. Another wonderful fire by way of Sam, we eat, tell stories and off to snoredom. Again we hear owls that night and are treated to a clear sky in which we were trying to spot satellites as they pass overhead
Tuesday, February 10, 2009 Day 3
Once again at we hear Tom as he comes back to life and we start getting up too – except for Sam the guy. Our routine is already set – pack up some stuff, make coffee, make breakfast, mill around some and leisurely pack our kayaks. Really relaxing and enjoyable.
Day 3 31.6 miles
<![if !vml]>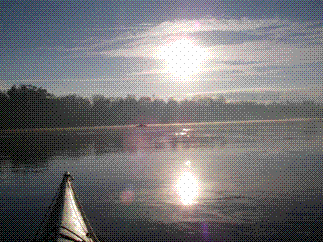 <![endif]>We get on the water just after and are treated with the cool crisp morning and that great feeling of paddling as the day begins. Of course as we round the very first bend there is a magnificent sandbar that would have made a great campsite – without mud. This day the wind kicked up and at times was blowing right down the river in our faces. We just tilted our heads down a little and paddled on. Even with the wind we were making good time due to the current.
The sky had puffy white low-level clouds that looked like a cold front was coming through. I think a weak front did come through but there wasn't any rain on us anyway. Great looking sky along with the scenery on the river banks.
We stop at Jaycee's Landing in/near Jessup at highway 25, 38, 84 – your choice. Here we ate our own lunches – they sold ice cream and a bunch of other stuff – mainly for fishing. As we are eating our lunch the wind brought upon us a very nasty acrid and chemical smell. It was from <![if !vml]>
<![endif]>the local paper mill. We couldn't believe that they were allowed to have that much emissions and so noxious! As we paddled past the mill we found that the water also contained that same awful smell because the plant dumps into the Altamaha. The smell followed us for two days down the river. This was the only negative point of our trip. We truly believe that they could make their emissions far better than that and yes, we know that would cost money but I had never experienced that bad of an odor from any plant. I may try to find someone to write a letter to about that.
Anyway, we leave the fish camp, paddle down river and come to a narrowing section of river where the current picks up and we get excited about it because we are still trying to get ahead by one day. As we near the sandbars are once again scarce and we start getting worried but then (around ) see a small bluff with what looks like a campsite area on top. We check it out and yes, it is a good camping area. The tricky part is getting the kayaks on the bank and up the bluff while dealing with the swift current. It wasn't that difficult and with five guys to help, it made it quite easy to carry the kayaks one at a time up the bluff. Dave couldn't stand not knowing so he paddled down river around a couple of bends to be sure there wasn't a nice sandbar just around the corner. There <![if !vml]>
<![endif]>wasn't and he got lots of exercise paddling back to the campsite against the current.
The campsite was great. As Dave was setting up his tent he came upon a small king snake or is it a poisonous coral snake? He yells out "How does it go? Red over yellow lovely fellow?" and the others come over to take a look. It was funny because the whole trip Dave kept telling everyone to be careful of snakes and he is the one who encounters one. The snake slithered away down an embankment and everyone finished setting up their tents. Dinner time, fire time, stories around the campfire, and finally sleeping time. Another great ending to another fantastic day. Once again we heard coyotes and owls during the night.
Wednesday, February 11, 2009 Day 4
Today we launch a little earlier at because we wanted to ensure we get the extra miles and find a campsite by . Again it is another very windy day and probably the warmest day of our trip – I think it made it into the low 70s. The wider areas of the river actually had chop that broke over the bows of our kayaks.
Still, we had current – our friend. Paddling felt tougher and we had to dig down at times but I wouldn't have wanted to be anywhere else<![if !vml]>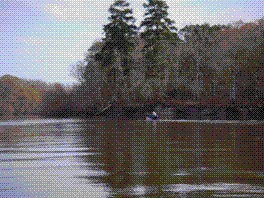 <![endif]>. The scenery continued to treat us with its beauty and the stench from that paper mill was slowly fading although at times you would get a whiff coming from the water especially as you rounded a bend. Our goal today is to reach Altamaha Fish Camp and then go another 7 miles to Lewis Creek where we heard there are several good spots to camp and some very old cypress trees we could hike to.
Stops on a convenient sandbar every two hours for a snack and break were welcomed and something we did every day. Around we land at Altamaha Fish Camp and were overjoyed to see that they sold BBQ sandwiches, hot dogs, and ice cream. Lunch time! Man that stuff tastes good when you are out on the water all day and doing a multi-day camp trip. Dave ate two sandwiches and two ice cream cones and I think the others gorged themselves too. We met some nice people and talked a little about the area and fishing. Then we're off to find Stud Horse Creek, around 4 miles downstream, to leave the Altamaha for a short while and visit Lewis Island and paddle in Lewis Creek.
Day 4 33.8 miles
Studhorse Creek was easy to find since we had a GPS. If you were paddling on river left, you probably would have seen it too but it wasn't that obvious until we <![if !vml]>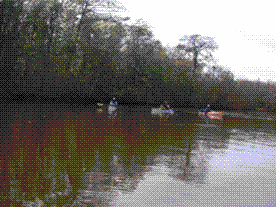 <![endif]>got real close to it. I can see how someone unfamiliar with the area could easily miss it.
We enter the creek and it is very calm and narrower. Very nice – we are also protected from the wind and everything is still. Dave is using his map that he downloaded from Google and was getting a little worried. He leads the group toward the left when they hit an intersection because Dave thought it was a tributary that he saw on his map.
Something didn't feel right especially when they were now traveling northwest. Tom looks at his GPS and says "We're now on Lewis Creek" and this didn't make sense to Dave because they hadn't been on Studhorse Creek that long. Dave now looks at his GPS and it is pointing directly behind him for the next check point. Dang. "Ok, let's turn around I made a wrong turn" wasn't easy to say and the looks from the crowd didn't show much confidence in him at that point!
<![if !vml]>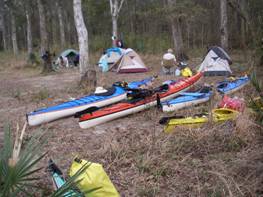 <![endif]>We were in Lewis Creek (Stud Horse Creek ends at Lewis Creek) and that tributary Dave was looking for was much smaller than what he was looking for so he missed it. Very glad the GPS was working. Oh well, maybe one day he will be able to navigate solely with map and compass. We pass a very acceptable looking campsite with maybe a four foot bluff but Dave insists we go a little further to the bluff that was recommended by several people and it was a place where Indians lived many years ago so there may be some pottery shards to be found. The bluff was a third of a mile down river and pretty high (15 to 20 feet) with a steep path going to the top which did have a nice camping area. Still, it looked like more trouble than it was worth so we paddled back to the previous spot. It was very nice and once again since we had five guys to help with the lifting and carrying of the kayaks, it wasn't that bad getting everyone up and situated.
We set up camp which goes very smoothly – nice having everyone on board with no issues. Dave and Sam want to try to hike to the old cypress trees they heard about. No one else wanted to join in because it was a hike through muddy marsh and we were told to take a compass or "you will get lost!" We make arrangements with Tom to blow his whistle if he hears us blowing ours just in case.
<![if !vml]>
<![endif]>Sam and Dave start hiking around 220 degrees per instructions from Danny – our kayak shuttle guy. At first, it isn't that bad – a little muddy but then it started getting wetter and then squish, sink, we are in icky mud up to our calves. We pick our way among what high ground we could find and try to keep our course at 220. Sometimes the ground holds our weight and sometimes we go right though into the mud. Maybe a little further than a third of a mile, we see some bigger trees and a few white markers tied to nearby trees. This must be it. The trees were big but they didn't stand out as humongous. It would take three or four people to stretch their arms around the biggest one. Pretty cool and well worth the effort to get there. Heck, this is an adventure anyway, isn't it? We go deeper into the woods and find other large, very old trees.
Time to head back and we figure it can't be that bad so we try to back track without using the compass and get lost. No big deal so we stop, get our bearings and continue on. We are lost! Ok, let's think. Oh yeah, we have a compass. So we take out the compass and have a few moments discussing how to read it in order to find 40 degrees to return to camp. Ok, let's go. Remarkable! After a few minutes of hiking through the mud, following the compass, we find our original trail and hear and see camp. Sure glad we didn't have to resort to blowing the whistle!
Back at camp we rinse off the mud in the river and then it is time to eat. After dinner we have yet another great fire – did I say how much these fires added to our trip? Across the river is a little stream heading northerly and we hear and see fish jumping. Wish we had a fishing pole. As the sun is setting we are around the fire, soaking in its warmth and see bats flying by - probably trying to catch bugs. That adds to our enjoyment of the moment. Another nice ending to another great day of our trip. We now have the extra mileage secured so we can really relax the next few days of paddling. After several hours enjoying the fire and sharing stories, we head to our tents for a well deserved good night's sleep.
Thursday, February 12, 2009 Day 5
Today we have an easy 13 or 14-mile day so we take our time getting up and end up launching around . We paddle Lewis Creek past the big bluff we were thinking of camping on and continue until we meet up with the Altamaha once again. Along the way we pass Rifle Creek which would have taken us directly to Darien but our plans are for a good meal at Mudcat Charlie's and then camping on Broughton Island.
Day 5 13.3 miles
We started at Lewis Island and ended at Broughton Island on the SE corner.
Blue marker near Hwy 17 is MudCat Charlie's where we had a very nice lunch.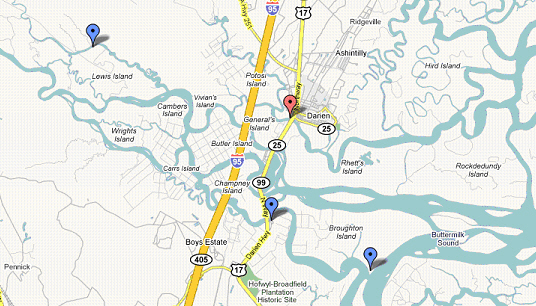 The scenery was changing somewhat now with mixtures of reeds lining the shoreline every now and then. We heard <![if !vml]>
<![endif]>that historically there were lots of rice fields in this area but none of us knew enough to be able to pick out wild rice from the reeds. The whole trip we were surprised and a little disappointed to have not seen an alligator. This place is supposed to be crawling with them but due to the cold weather, they must have been in hiding.
Today the wind is mostly at our backs (out of the west) indicating that a cold front did come through, although a weak one since it didn't get significantly colder. As usual, we have a nice sunny day with cool temperatures. The paddle from our camp to Mudcat Charlies only took us two and a half hours. There weren't many places we could get out at so we split up looking for spots. Getting out on the dock was an option but we wanted to see if there was an easier ramp. Jack and Dave find a muddy spot but if you paddled hard and glide up a bit, you could get out near shore with minimal mud. So they get out and walk on the board walk to tell the others they had found a spot. Much to their surprise, the others were already on the ramp – they had decided to just be careful and disembark on the floating ramp. This was the better of the two spots as we will see later.
<![if !vml]>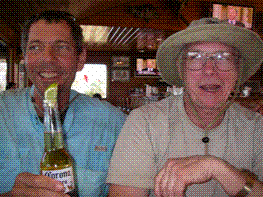 <![endif]>Mudcat Charlie's is located in a fish camp that has showers and caters to fishing activities. Dave and Jack spend some time cleaning off the mud and checking out the area. Hey, they sell beer at the grocery store! I think Sam bought a six pack of Heineken and handed them out – I know I got one – boy did that go down good! We'll have to get some more for tonight. Meanwhile, we get a table inside and asked if we were ok to come in and they said "yes." Lunch was great and the décor of the restaurant was everything you'd hope for in a place on the river, in southern Georgia. It was nice, really nice to sit down and have a decent meal.
Well, lunch is over and we have around 4 miles to go to get to our campsite for the night. Stew, Tom, and Sam make their way back to their kayaks on the nice, clean floating dock while Jack and Dave make their way back to the muddy bank where they left their kayaks. What's this? Boy are we stupid! We've been talking about how the tides are up to eight feet in this area and we knew the tide was going out so guess what? Jack and Dave's kayaks are stranded on a mud bank with 20 feet or so of sticky, oozing mud to the water. Jack looks really disgusted while looking down from the board walk at the kayaks.
<![if !vml]>
<![endif]>There was only one option: lay flat on the front of the kayak with your legs off the bow, kicking like a frog to propel you forward, arms flailing at the mud and flounder toward the water through the mud. Then the tricky part of inching to the cockpit, turning around and getting your butt into the cockpit without capsizing while trying not to get too muddy but at that point, it just didn't matter anymore. Mud was everywhere. It must have been hilarious to watch. As it turned out, we did get very muddy but it was all part of the trip and we had a good laugh. Neither Jack nor Dave fell in either which was an accomplishment in itself considering the circumstances.
The paddle to Broughton Island from Mudcat Charlie's was uneventful after the mud-launch. Tide was going out rather swiftly and it just pulled us to our destination. I must say that we really enjoyed our stay on Broughton Island. I know I want to plan a 3 or 4-day trip just to go back to Broughton Island for a few days. Big sand dunes, marsh area, and lots of places to explore. Setting up the tents was easy and we spent some time walking the island and just checking things out. Lots of animal foot prints and scat that we couldn't figure out. Sam finally says "pigs!" and we concur. Pretty neat.
<![if !vml]>
<![endif]><![if !vml]>
<![endif]>Jack decides that we should play Bocce Ball so we find some pieces of wood, pine cones and fill some empty water bottles with sand. This was loads of fun and one of the high points of our trip. We eat dinner and then are treated to the most amazing sunset we had ever witnessed. The sky turned colors of orange and reflected as a mirror would off the water. Our photos don't look real but they are. I wish I had a high quality camera for those shots.
<![if !vml]>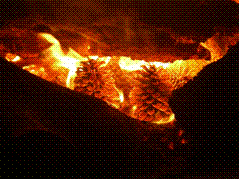 <![endif]>Sam has another great fire all ready to go. Really takes the chill off and is just great to hang out by and talk. There are lots of pine cones on the island so we get a bunch and throw them in the fire – that made for some really cool looking fire components too. The pine cones didn't just turn to ash but stayed around a while and glowed. Awesome. We hit our tents around 10 pm and hear dolphin blowing (poosh!)as they search for food and large fish jumping. Around midnight we hear dogs and people (hunters?) chasing pigs across the sound. It was concerning at first because it sounded like it was on our island and we didn't want a hunting party plowing through our camp!
Friday, February 13, 2009 Day 6
Ooooooh, its Friday the 13th! Today we have yet another easy 13 or 14-mile day (wait until the story unfolds) so we take our time getting up and allow some time to continue playing what we now call "Modified Beach Bocce Ball." We draw lines in the sand 15 paces or so apart, <![if !vml]>
<![endif]>add "throw from behind" lines, throw a pine cone that must cross the far line, then toss pieces of wood and plastic bottles filled with sand to see who can end up closest to the pine cone after all throws. Four people playing, two per team, standing on opposite sides and taking turns throwing until a team gets 10 points. Lots of hooting, razzing, and dancing when things go right. It really was a blast!
We were watching the tide and when it finally slowed down – it was coming in – we started getting ready to head out into the ocean. We launch right around 11 am and start heading east. Easy day, tide will help, no worries. Dave wished he had a better map – the ones from Google were ok but a real official chart would have made him feel better. Things didn't look like what he expected but his trusty GPS was pointing the way. The current was a little against us to just going slack as we bid farewell to that great campsite on Broughton Island.
Day 6 27 miles
We paddled to Queen's Island but didn't find a good campsite
So we decided to continue in to Darien – the long way...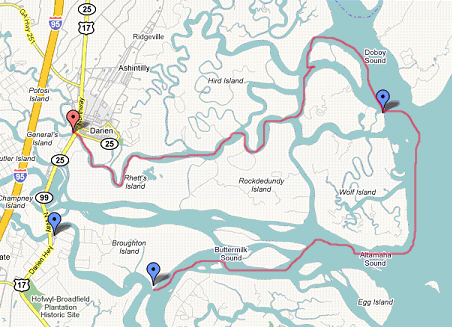 We paddle for 45 minutes or so and see markers that indicate that we are on the Intracoastal Waterway route. That is good because we wanted to go across the Altamaha Sound and follow Wolf Island out into the Atlantic and the <![if !vml]>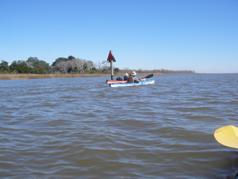 <![endif]>waterway was one of our landmarks. So we follow the markers while being sure we are heading northeast to east and end up on Wolf Island, just east of the Intracoastal Waterway. We stop for a quick break, stretch our legs and eat lunch. Nice warm sun shining down on us making it very pleasant.
We continue along Wolf Island heading east and make it into the Atlantic Ocean right around 1 pm. We did it – <![if !vml]>
<![endif]>paddled the entire Altamaha River! That was a nice feeling and now let's get to our next campsite so we can relax and maybe play some more Beach Bocce Ball. We had some wind but the water was pretty much calm and close to shore was brownish due to the current from the tides stirring up the sand.
We arrive at Queen's Island right around 2:15 pm – great timing – It will be nice to be early and set up camp so we can play and explore. The Sapelo Lighthouse is directly across the sound (Doboy Sound) about one mile from us and it is a treat to see a lighthouse since we don't get to see many. We beach our kayaks and start looking for acceptable areas to set up our tents. The areas above the high tide marks are all oyster shells – not the best for pitching a tent on but maybe ok in a bind. We decide to go around the island to see if we can find a better campsite.
<![if !vml]>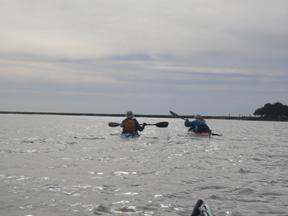 <![endif]>Somehow we missed a turn and ended up going further north and around Doboy Island which is to the north of Queen's Island. Still, no places to camp. In the back of our minds we remembered hearing a weather report that there will be rain that night as another cold front pushes through. Some mild panic or rather we were just tired and wanted a place to stop. We push on and cannot find an adequate place to camp and somewhere in the odyssey we decide what the heck and start paddling in toward Darien. What's another 8 to 10 miles? Once it was decided we relaxed again now knowing what we were going to do. The not knowing was somewhat stressful but now we had a plan.
We once again follow the waterway markers until we got to the Darien River where we turned and went westerly toward Darien. We were surprised to find several areas where the mud flats almost came all the way across the river. Night was approaching fast and we knew we probably wouldn't make it before dark <![if !vml]>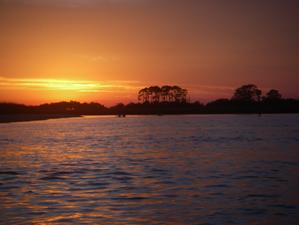 <![endif]>especially with the tide still going out and making our progress slower. We also were not prepared for paddling at night with regards to clothes – it was getting chilly. Tom and Stew got their head lamps out and the rest of us didn't have them handy so we decided to stick close to the guys with the lights. We were once again treated to a remarkable sunset at which time everything seemed good again. So we have to paddle some in the dark – maybe we can make it in as the last sunbeam disappears – and that we did.
We arrived at the Darien boat ramp somewhere between 6:30 and 7:30 pm just as the last rays of the sun disappeared. I can't remember the exact time because I was sooo cold at that point that I couldn't think straight. I was in a wet bathing suit, had a wet cotton t-shirt on and a thin wind breaker over it. All of us were suffering as we pulled the kayaks out of the water and carried them up the asphalt ramp to a grassy area. We started unloading and getting everything ready to throw into our trucks/van while sometimes shivering uncontrollably. Luckily we had left our vehicles just up the ramp at the Sailfish Inn and - this is the very luckiest part – Scottie the owner of the inn happened to be there at the time. She fixed up rooms for us and gave us towels for our showers.
<![if !vml]>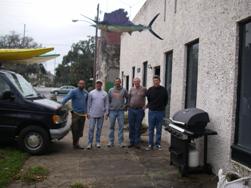 <![endif]>We threw everything in our vehicles and loaded the kayaks and went into the Sailfish Inn for a nice hot shower. Everyone had a nice hot shower except Dave – his shower was connected to a water heater that had just been turned on and no hot water was available. So he took a cold shower and continued shivering. Oh well. We all went to B and J's for dinner – a great place to eat if you like fresh shrimp and oysters. Their all you can eat buffet is well worth it. An excellent dinner and back to the inn for a good night's rest. Sam and Dave walked down the road to Skipper's bar and had a nightcap – Sam bought Dave an Irish coffee and for the first time in many hours, Dave felt warm. Ahhhhhhh!
We got up the next day and ate breakfast at the inn. Then we walked through town, looked at the scenery, and took some pictures. Darien is a neat little town and would be a great stop when traveling through that area or even nice for a weekend get away. I plan to go back some day. We said our good byes and hit the road for our return trip to south Florida for Sam, Stew, Jack, and Dave while Tom had a 21-hour drive to get back to balmy Wisconsin.
<![if !vml]>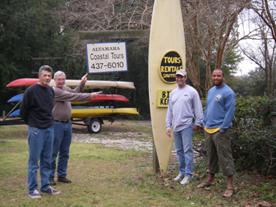 <![endif]><![if !vml]>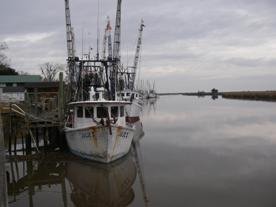 <![endif]>
Great trip, great people, great adventure.
The End (for now!).
Kayak Info:
5 kayakers  Sam 32,  Dave 50, Stew 53, Tom 60 (he turned 60 week after trip), Jack 60 (turned 60  two weeks before trip)
Kayaks used (in same order as kayakers):  QCC 500, Current Designs Solstice GTS, Current Designs Expedition,  QCC 700, Current Designs Storm
Resources:
Do some research on the internet, post questions on kayak/canoe forums to find out more about the Altamaha River and surrounding areas.
Darien, GA
The city has a website – informative – look it up on google.com
Sailfish Inn Bed and Breakfast ( look up on Google – they have a website)
We loved it – comfortable and homey – not luxurious but everything we wanted. Great location. A block from the Darien River with a boat ramp at the river. The owner Scottie was very nice – please visit her and tell her you saw this recommendation.
Scottie
Sailfish Inn B & B
Darien, GA (912) 617-7299
Altamaha Coastal Tours( look up on Google – they have also a website)
Danny was very helpful and informative. We really enjoyed his company and service.
Kayak rental and shuttle service.
(912) 437-6010
Altamaha River Partnership www.altamahariver.org
We got a brochure that marks the boat ramps, places where you can resupply water, and gives mileage between points. We found it very useful for planning. Email them and ask for a brochure and/or see the tourism/visitor centers listed on the site and email or call to have copies sent to you.
Google Maps, Google Earth used in much of the planning for GPS coordinates as well as ideas of where to camp, eat, and lodging. Note that the maps printed out from Google are adequate but do not compare with the NOAA type maps. This area didn't look too complicated so we didn't get the official maps.
We also had a Delorme map of Georgia – it helped some but we really didn't need it nor did we use it while on the trip.
IMPORTANT
Tides can be 8 feet near Darien and they are very swift! Get a tide chart at one of the fish camps or have the data previous to your trip by looking it up on the internet. Plan your paddles near the coast accordingly. The tides didn't affect us much until we crossed east of I-95 but we heard they can impact you as far up as the Altamaha Fish Camp.