Apalachicola River "The Panhandle Tour"
Feb 19 – Feb 25, 2011
                        <![if !vml]>
<![endif]>
Paddlers:  Jack, Tom, Sam, Dave **Stew did not make it this year due to work commitments.  We sorely missed him.
Note:  Tom drove down from Wisconsin, the rest are from various areas in South East Florida.
Kayaks:  Current Designs Storm, QCC 700, QCC 500, Current Designs Solstice GTS same order as paddlers list.
Preface
We chose this river because it is long enough for a 7-day trip and it cuts across Florida keeping us true to our name "Paddle Across Florida."  We also had good reports from others who have done the whole river and parts of it.  We left our vehicles in Apalachicola and caught a shuttle to our put-in near the Alabama/Florida/Georgia border.  The river up there is the Chattahoochie which empties into Lake Seminole and then becomes the Apalachicola River.  The Apalachicola Riverkeeper was a great help for our trip planning. 
In order to make it a true paddle across Florida we needed to start at the Georgia/Florida border at the Woodruff dam.  This is where Lake Seminole empties into the Apalachicola River.  To add more distance we decided to start in the Chattahoochee River at the FL/AL/GA border intersection.  Last year's trip down the Suwannee River was so cold that each of us brought cold water paddling gloves, booties and warmer sleeping bags this time.  It got cool at night (40's) but not in the 20's and 30's as last year.  The weather was near perfect for this trip with sunny days and pleasant nights.
Friday, Feb 18, 2011        Drive to Apalachicola, FL
<![if !vml]>

<![endif]>Jack and Dave drove up with Sam in his truck.  Sam has a great way of hauling kayaks and we arranged them in such a way that was very secure and easy to do.  The drive up was uneventful and we enjoyed each other's company and the views along the way.  We arrived in Apalachicola around 5pm and immediately went to Papa Joe's for some fresh oysters.  If you like oysters, it doesn't get any better.  Make sure you visit Papa Joe's' – they are the best in town and the locals will confirm it.  We then went to the Buchaneer Hotel on St. George Island because that is where the outfitter (Journeys) is - they shuttled us to put in.  Nice people – use them if you need to rent or a ride.  Tom had arrived earlier and was waiting for us.
Day 1  Saturday, Feb 19, 2011  -  23 miles
After spending Friday night at the hotel we arise and drive to Journey's shop to load our kayaks on their shuttle.  Dale, the owner was there and she and her friend helped us load up and we're off!  The drive to <![if !vml]>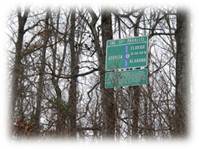 <![endif]>put-in was around 2.5 hours and we got a little bit of a late start so after unloading and packing our kayaks we finally launch at 10:45 am.  We had to paddle upstream for 1.6 miles to make it to the Alabama border – there was a sign posted on a tree that marked the spot and we were happy to see that it corresponded exactly with the GPS point loaded from Google Earth.  Then, we turned around and <![if !vml]>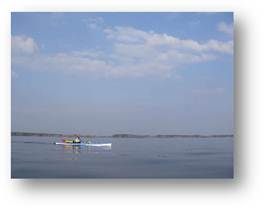 <![endif]>paddled downstream.
The water was very cold and the air temperature was in the 70's – perfect!  Our first campsite was actually at a marina on Lake Seminole – Seminole Fish Camp.  A true fish camp.  They were having a fishing tournament that weekend and we were somewhat disappointed on our first day of paddling to see so many speeding bass boats but the tournament explained it.  We didn't see much boat traffic the rest of our trip.
We found a decent place to pull out after scouting the area for a while.  The shores are all rocks and around 5 feet high.  We found reeds in the canal where the boat ramps are and we paddled over them to a grassy area where we pulled our kayaks up for the night.
Of course we checked out the store and bought beer.  It was slim pickings but we got some!  The motel was what you may expect for a fish camp out in the woods.  I know my wife would not have stayed there but for us guys it was fine.  We cooked our dinners on our stoves outside our rooms and cooked up a plan to surprise Tom being that today was his 62nd birthday.
On our drive up to Apalachicola we stopped for lunch and saw a consignment shop as we were leaving and decided to see if we could find something fitting for Tom's birthday.  They didn't really have anything of interest but they did have dresses!  Well, we had a few beers at lunch and thinking it would be too hilarious, we each purchased a dress to <![if !vml]>
<![endif]>wear in honor of Tom's birthday. 
When Tom went into the shower we all came into the room and donned the dresses awaiting his exit of the shower.  When he came out with only a towel wrapped around him we all said "Happy Birthday!"  I didn't know if this guy from Wisconsin could handle South Florida humor but he laughed and we took some pictures.  When we left the motel we left two of the dresses hanging in the closet – another hilarious gesture.  Sam saved his for a friend (so he says).  I wonder what the cleaning lady thought…
Day 2  Sunday, Feb 20, 2011  23 miles  and Day 3  Monday, Feb 21, 2011  0 miles
<![if !vml]>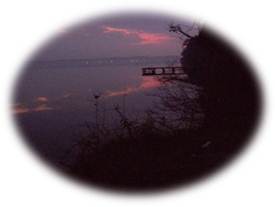 <![endif]>
We got up early and witnessed the start of the second day of the fishing tournament.  Bass boats with big engines lined up waiting to be released.  They roared off one at a time into Lake Seminole.
Today we are paddling to Alum Bluffs.  We were told this is a great place to camp and explore so the plan is to stay there two nights.  This was the highlight of our trip besides eating oysters at Papa Joes.  We load up the kayaks and shove off and are around 3 miles from the Woodruff Dam and lock.  The lockmaster's name is Packer and he was very friendly and helpful.  We had called him prior to our trip and he said he would watch for us.  Sure enough, as we approached the lock Packer was there waiting and he gave us instructions to tie off but also to be able to untie in a hurry in case of an emergency. 
<![if !vml]>
<![endif]>
Locking through was a treat.  The water level in the lock went down 34 feet or more and it was just a cool experience.  When the gates of the lock opened, we paddled into the Apalachicola River.  The current in the river was about 2.4 mph the entire trip.  Made it nice for leisurely paddling.  The river is scenic but wide – not as intimate as we would have liked but still it was an adventure and a good trip to do.
<![if !vml]>
<![endif]>We arrive at Alum Bluffs and it does look like a really neat place to stay and we immediately agree that we should stay here for two nights.  Nice sandbar to camp on with the bluffs across from us.  Lots of paths in the woods behind us to explore as well as streams across from us.  We walked the trails behind us and explored the creeks on the other side of the river.  There is a cypress swamp that was very interesting too.
We found shards of pottery on our sandbar – possibly from Indians?  We looked around for arrowheads but didn't find any.  Then we decide to climb the bluffs so we paddled across the river and secured our kayaks in a <![if !vml]>
<![endif]>creek.  We climbed the steep side of the bluffs.  Wow.  What a great view from up there!  That was well worth it.  The climb down was tedious because it was so steep but we made it down without mishap.
This was a special day because it marked passing the 1,000 mile point that the group Paddle Across Florida has kayaked.  We <![if !vml]>

<![endif]>passed out Maori Twists – native necklaces of tribal people from New Zealand to honor the event.  We made sure these were from New Zealand because that just makes them more "righteous."
The Maori Twist represents the many paths that life can take and the strength of friendship along these paths. It represents the joining together of two people or groups for Eternity, telling the tale of how a bond of Friendship, Loyalty, Love and Respect will last forever. Sometimes the two paths will diverge, but will always come together eventually. This symbol is often exchanged between friends to indicate a long lasting bond.
Spent the rest of day 2 relaxing, exploring, Sam fished; Dave went for a swim (brrrr).  After dinner we played Bocce Ball – Dave had packed a heavy bean-bag style set.  That was fun and a nice way to end the day.  We had a nice fire to relax near and watch the stars.
Day 4  Tuesday, Feb 22, 2011  20 miles
Another nice day.  The current is keeping us moving between 5.5 and 6.5 mph so we are covering ground quickly.  Our destination is a sandbar near Estiffanulga.  Uneventful paddle, wide river with nice current.  <![if !vml]>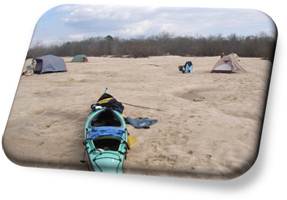 <![endif]>We stopped at a county park for resupply of water and the guy there told us the sandbar was just around the corner.  He also said to look out for a black bear that had been frequenting the area lately.
When we rounded the next corner, there was this huge sandbar.  Really big.  The sand was very bumpy but we all found areas to place our tents.  We were worried about the bear but it never appeared.   Saw an eagle and we again played Bocce Ball after dinner and watched the stars when night fell as we once again sat around a beautiful campfire.  We make it a game to see who can spot the satellites as they go by and we saw several as well as a few shooting stars.  Told stories and went to bed.  Heard owls that night.
Day 5  Wednesday, Feb 23, 2011  25 miles
Today we are headed for Dead Lakes park.  It is around 5 miles off of the river but supposed to be a neat thing to see.  On the way we explored a few side streams but were afraid to commit to taking them in case they became a dead end.  We find the Chipola Cutoff that leads toward Dead Lakes and head up it.  On the way Jack yells "Store" so we stop while he climbs up the bank and goes to the store.  He brought back canned chili, ice (for his shoulder) and beer (yea!).
<![if !vml]>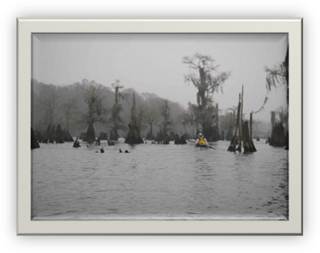 <![endif]>
Paddling into Dead Lakes is eerie with all the stumps sticking up out of the water.  A few experienced kayakers from the area advised us to stay on river right before venturing into the trees.  Tom thought we could go on a straighter rout per his GPS and he was right but we didn't want to get lost in there and took the other paddlers advice and stayed river right.  None of us had maps of the area – only GPS points and Tom's fancier GPS that has maps loaded.  At low water levels you could run into dead ends and unnavigable areas.
It was a little bit unsettling trying to navigate to the park because it does look like a place where one could become hopelessly lost or confused.  We were told that the turning points were well marked but if we didn't have the GPS we may have missed the turns.  The markers are strips of black and yellow tape tied to trees and pretty high up.
Dead Lakes park was a nice place to camp but we didn't see any compelling reason to stay there more than one night.  It has a pay station for campers, tables, a boat ramp and nice grassy areas to pitch your tents.  Typical county park and nice but we decided not to stay for more than one night.  Ate our dinners, had a camp fire, and drank some beer.  We love these trips just for relaxing and exploring.
Day 6  Thursday, Feb 24, 2011  25 miles
Met a guy with a boat who told us to just go straight south instead of going back the 5 miles on the Chipola Cutoff.  Tom had suggested this per his GPS and with the confirmation, we decided to go that route.  Don't know the name of the river but it parallels the Apalachicola river from Dead Lakes for maybe 14 miles before joining it.  The paddle was a little more pleasant because the river was narrower and protected from the wind.  We saw many little houseboats throughout our trip. 
<![if !vml]>
<![endif]>We get back into the Apalachicola and it is windy.  We stopped for lunch along a bank – the stopping places are becoming pretty scarce in this area.  We find Owl Creek and turn up it and go maybe 2 more miles to another county park.  Once we are in Owl Creek we were once again protected from the wind so that was nice.
The park is yet another nice county type park with campsites for tents as well as areas for campers.  Lots of trails to walk and we met a nice couple who go there every year at that time to get away from the city.  They go hiking daily and just relax.  We took a long hike at sunset and returned in the dark.  Had dinner, of course our campfire and headed to bed.
Day 7  Friday, Feb 25, 2011  24 miles to completion!
<![if !vml]>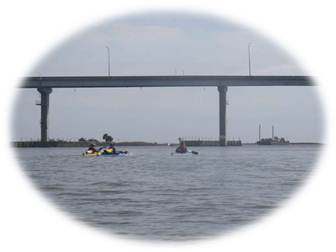 <![endif]>Today we head to the town of Apalachicola – one day early.  No cell phone coverage to change our hotel reservations but we will deal with that when we can.  Blustery day with warnings that a strong weather system is approaching – set to hit around 1 pm.  Great.  Our ETA is 2 pm.  We found this out because a Florida Fish and Wildlife boat pulls up along Dave and starts a conversation.  Dave is paddling as best he can in the wind while trying to talk to the officers.  They were very nice and interested in our kayaks and adventure.  Dave encouraged them to "Just Do It!"  So many people say "I want to do that someday" but never take action.  We like to encourage people to do these kind of trips – they are within most people's reach and so enjoyable.  You don't have to do hard-core as we do (and we don't consider ourselves hard-core anyway).
As it turns out, the weather system missed us and we make it to Apalachicola and paddle under the bridge where the Apalachicola River meets the bay.  Then we turn around and head up a waterway to our hotel.  We were told of a boat ramp we could use that was within a quarter mile of where we had reservations.  We did change our reservations to this night so everything worked out well.  The Waterstreet Hotel was very luxurious and nice.
<![if !vml]>
<![endif]>
Dinner at Papa Joe's – lots of oysters and beer.  Nice ending for yet another cool trip.  We really missed Stew on this trip because he adds so much to our group and the fun of being outdoors on a journey with friends.
Saturday, Feb 26, 2011
Sam, Jack, and Dave drive back to south Florida while Tom heads back to the frozen north in Wisconsin.
Resources:
Apalachicola Riverkeeper - Very helpful with GPS points and campsites that they have used on their trips.  Made planning very easy for us.
Journey's – kayak outfitter on St George Island  website:  sgislandjourneys.com
Buccaneer Hotel on St George Island, FL
Water Street Hotel, Apalachicola, FL
Google.com – I always use Google Maps and Google Earth for trip planning and GPS points.
http://paddleacrossflorida.com  Our website for more photos and other trips we've done