Day Six: Wednesday, March 4, 2015   Dallus Creek to Steinhatchee:  8 miles
Today we got up leisurely and left around 10 am because we knew it was a short day.  We had to pull our kayaks out to deep water when we launched.  It became windy again from the left front of our kayaks.  Dave's rudder cable was repaired the day before and he was glad to have rudder in the wind.  We stopped and fished along the way at all the fishy looking spots.  Sam actually caught a decent redfish and let it go.  We saw a sea turtle and again lots of flocks of birds – especially white pelicans.
It was nice to be near shore and able to stop at will.  Still had to be cautious of oyster bars and low water.  We were looking forward to spending the night in a room and having restaurant food and beer available for consumption tonight.  Even though we are hardy and can camp out for weeks without showers and just our camp food, it is really, really nice if we have a chance to break up the camping with a stop in civilization.
Drying our tents in the morning at Dallus Creek                           Where'd the water go?  Low tide at Dallus Creek
<![if !vml]>
<![endif]><![if !vml]>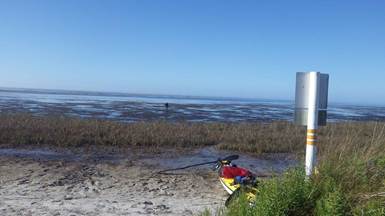 <![endif]>
Rudder cable repair on Dave's kayak                                                Stew pushing his kayak through the mud
<![if !vml]>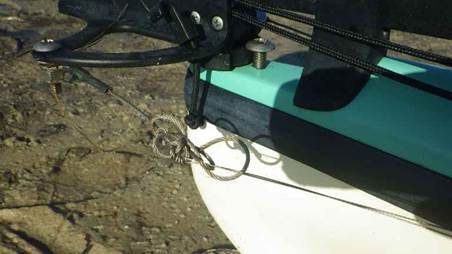 <![endif]>       <![if !vml]>
<![endif]>
                                                                        Taking time to fish along the way.
<![if !vml]>
<![endif]><![if !vml]>
<![endif]>
                                    Rest stop                                                                           Paddling into Steinhatchee
<![if !vml]>
<![endif]><![if !vml]>
<![endif]>
Our home for the night – Good Times Marina – we highly recommend this place !!
<![if !vml]>
<![endif]>
They have the friendliest cats that will jump in your car or boat and come into your room.
<![if !vml]>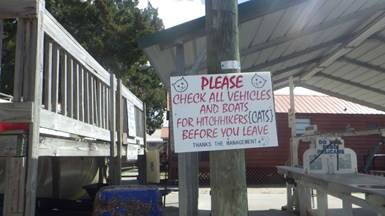 <![endif]><![if !vml]>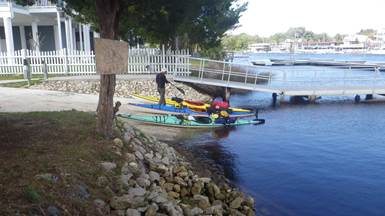 <![endif]><![if !vml]>
<![endif]><![if !vml]>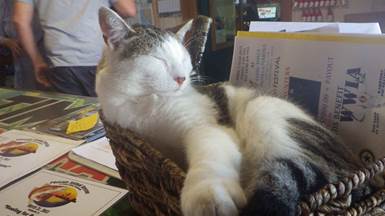 <![endif]>
                  Bobber the cat                                                         Martin (motel mgr), Kay and Russ (Suwanee Guides)
<![if !vml]>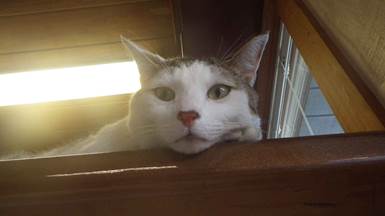 <![endif]><![if !vml]>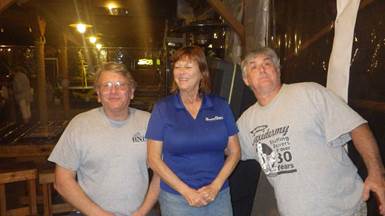 <![endif]>
We had a great night at the Good Times Marina.  Their bar and restaurant the "Who Dat Bar and Grill" was very good.  The couple that runs the place Martin and Dawn are first class, fun, and informative – very friendly and helpful.  If you are in the area you MUST eat there and if you need a place to stay, their quaint cabins were everything we could have hoped for.
After we ate dinner, we went back to our cabin to relax some.  Sam went back to the bar and around 30 minutes later there was a lady knocking at our door.  Stew and Dave look at each other quizzically.  Kay from Suwannee Guide Tours who we had not met yet, came in and said we had to come for a drink.  So Stew and Dave joined Sam, Kay, Russ, Martin and Dawn for some more drinks.  It was a blast to meet everyone and just spend time telling stories.  Another great evening that only happens on these trips.
A perk at this motel is that every guest gets a pet for the night.  The cats are very friendly and will come to spend the night in your room.  They ask that before you leave you make sure none of the cats are in your room, boat, or vehicle.  They have had people return to the marina because they discovered a stowaway in their boat/vehicle.  Bobber the cat came into our room as we were packing up and stayed on a bed until we were ready to leave.