A Bicycle Ride from Washington, DC to Pittsburgh and back
On the Chesapeake & Ohio Towpath and The Great Allegheny Passage
Dave and I met through the internet!  I know it sounds funny but we both are into kayak/camping trips and he found my kayak website where I document kayak trips I've done with friends.  He contacted me about some trips in Florida and I gave him what information I could.  He saw that I had attempted a bicycle trip across the US a few years ago -I made it across Georgia but decided to stop after 4 - 5 days mainly because I was by myself, very tired, and did not want to do it alone.  The person I was to ride with bailed a few weeks before the trip.  Anyway, he commented that he would be interested in the same bicycle trip across the USA in a few years so we kept in touch.
In the meantime, Dave moved from Massachusetts down to Florida.  We finally got to meet on a "test" roundtrip bicycle trip from Key Largo to Key West and back.  This was two century-plus rides in two days.  I figured I would see how serious he was.  He killed me on the ride although he had never pedaled a bicycle 100 miles in a day before.  We also got along very well – both of us are mellow and easy going.  So we kept in touch and also did a long kayak/camping trip together and I found on that trip that he can kill me in paddling too.  That surprised me because most people ask me to slow down and do less miles.  After hearing Dave's stories of his kayak and canoe trips and past adventures (he used to lead trips through Africa and other countries for months – like you see on TV adventures), I knew I had found the perfect person to do a long trip with.
We did a fully loaded trip around Lake Okeechobee and I did not do well due to the wind but mainly because I had seat issues.  He did fine as if it was a walk in the park but had doubts about my ability to do 90-mile days for 30 days in a row.  That was our goal for bicycling across the US. 
I re-positioned my seat after that ride and it was better but still something was wrong.  I changed my handlebars so I could get one more position – so I would do better on long trips.  It helped but I still had issues.  The issue I eventually found was that I changed the height and position of my seat and released tension for a softer ride.  I finally put the seat height and position back to where my bike shop had it ( I had the specs) but did not tighten my seat until well into this trip.  Tightening my seat made all the difference in the world.
Dave put the thought into my head that maybe we should do a shorter, but challenging trip.  That's when I found the Chesapeake and Ohio Tow Path (C&O) and The Great Allegheny Passage (GAP) trails from Washington, DC to Pittsburgh.  They had great write ups, and seemed challenging but not far enough.  So I posed it as an alternate trip but to do it round trip which would be close to 700 miles.  Dave looked into it and agreed that it looked like a cool trip.  We both did our own research and bought the trail guides and then bought our train tickets.
Beginning of trip:
Dave and I booked seats on an Amtrak train that goes from south Florida to Washington DC.  We discussed driving versus train and decided the train was more appealing because you never know what may happen on a long drive and then we would need to figure out where to park the car for the duration of our trip.  Also, Amtrak has a cool service for bicycles:  they have "roll-on" service which means we didn't have to pack our bicycles into a box – all we had to do was hand them to the baggage car.  They have room for 6 bikes and they hang them in the baggage car.  The only caveat is that you must run with your bicycle to the baggage car, lift it to the guy in the car, then make your way back to board the train.  The baggage car is the last car and the car you sit in is 5 to 7 cars forward.  I read that you need to be quick.  We both made it but we were worried.
I boarded in West Palm Beach train station while Dave boarded in Winter Garden, FL.  Both of our stations were changed before our trip because mine stopped having baggage service and Dave's original (Sebring) never had baggage service although online let him book his bike there.  Be careful and I recommend to call to be sure you can load a bicycle and/or luggage at the station you are planning to use.  Mine switched one week before my trip.
Our trip was delayed due to hurricane IRMA hitting south Florida on September 10, 2017.  We were just recovering when our trip was to begin on Saturday, September 16, 2017.  So we pushed it out to Saturday, September 23rd and that ended up being a blessing.  It did not rain on us for our entire trip of 12 days.  Unheard of on those trails.
                      Day 1 9/24/17  Washington DC to Brunswick, MD  60 miles
We made it to DC just fine after an uncomfortable train ride.  The ride wasn't bad – just long and riding for 21 hours makes you uncomfortable in a seat where you cannot recline enough to sleep.  Better than airplanes though.  We enjoyed watching the other passengers.  We did not book a sleeper car – they are a lot more expensive so we were in the coach seats.  Some entertaining people ride trains.  One guy we watched bought a lot of alcoholic beverages – scotch, beer, other bottles that he carried from the bar to his seat in a cardboard box top styled container.  He got so inebriated that on a bar run he spilled a whole box top of assorted beverages on himself and the poor guy sitting next to him.  He was our entertainment for the trip.  At around 3am the same guy was blasting jazz from his cell phone because his headphones didn't work anymore due to drinks being spilled on them.  I think he finally realized after 15 minutes or so that he was disturbing everyone.  He turned it off and went to sleep.  He was going to Chicago and intended to stay drunk the whole time – I heard him telling someone that.
We got our bikes from the baggage car – they unloaded them last so we didn't have to run, but we did anyway, just in case.  We went up an elevator with our bikes and retrieved our boxes from the luggage area.  Then we loaded up our bikes and started walking through Union Station.
Union station in Washington DC was a zoo in the area where the passengers get tickets and go to board trains.  The outside was really impressive though – very high ceilings and just grand.  Dave who has been to many train stations around the world and in third-world countries commented that Union station was one of the worst, if not the worst he'd seen.  I think the bathroom we used to change into our bicycle clothes put him over the top.  It was a mess and really needed a cleaning.  When I went in there was blood all over the floor and no paper towels or toilet paper in the stalls.  I couldn't wait to get out of there and I'm not squeamish.  I did see the guy who was bleeding on my way out – he looked okay but had a nasty cut on his hand that was still dripping.  I asked if he was okay and he nodded…We ate breakfast at a McDonalds and rolled out into the city.
Once outside the train station we put our pedals on our bicycles.  I had a hard time with my left pedal (it seemed to be cross-threading and stripping), was starting to stress out, and Dave calmly got the pedal on for me.  We then rode through the city.  It was really cool (really cool!) seeing the capitol in the distance, Lincoln Memorial, Washington Monument, etc. as we peddled by.  There were some events going on with live rock music blasting, tents, and people everywhere. 
We were making our way to mile marker zero.  We knew where it was because we had bought the Trail Guide for the C & O canal towpath and Gap.  Never would have found it without those instructions.  It is located next to Thompson's Boat Center.  It happened that on that day they were having sculling races so we also had to weave in and out of people and boats but we made it unscathed and thus began our bicycle trip.  It took us 1.5 hours to get from Union Station to MM 0 - we were taking our time.
There were lots of people on the towpath just as we were getting outside of the city.  We were weaving around them and we found out they were having a marathon that day.  After a short while we were tired of so many people – what the heck? – This is supposed to be an off road trail through the woods!
Once we got past Great Falls Park, it thinned out to where we did not see many people except for bicycle riders.  There were a fair amount but as we ventured further from Washington, they also thinned out.  Finally we were on a nice peaceful trail in the woods following the Potomac River with only the occasional bicyclist or walker.  We continued and enjoyed the sights , had a very good lunch at Whites Ferry and stopped at a campground right alongside of the trail (only $8 each) in Brunswick at mm 54 and set up our tents.  It was hot out (90's) so we went for a swim in the Potomac River – it was cool but very refreshing.  Then we took showers and readied ourselves to go into town.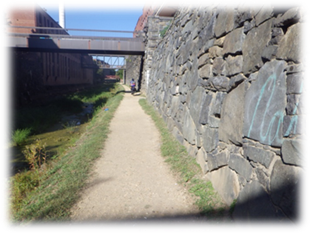 We rode into town in our "street" clothes, no helmets, no bags strapped to our bikes – it felt good riding unloaded.  We
were looking for supplies and dinner and found a small store that sold groceries but no fruit.  We found that unusual.  Then a local told us that Smoketown Brewing Station was a good place to get beer (we had it circled on our maps/book already as a potential place to stop) and that the food truck was very good.  So we went there and she was right – very good craft beer and the food was excellent.  After dinner we went back to camp and settled in for the night.  It was a good first day.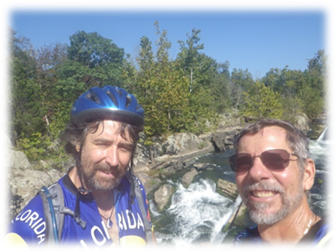 Day 2  9/25/17  Brunswick, MD to Hancock, MD  74 miles
This was the hardest day for me – having seat adjustment issues.  I was pooped!  Dave took it in stride and looked like he just went for a walk in the park.  This was very easy for him.  Beautiful scenery - we would have to remind ourselves to look at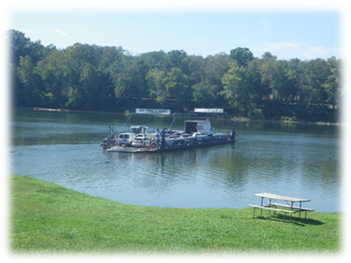 and enjoy.  When you ride on a trail for hours on end it does become somewhat monotonous.  We passed some really neat areas like Harpers Ferry but did not venture into the town.  Shepherdstown is also a very cool college town, we went in town for groceries and up a nice hill that I wasn't too pleased about.  Whenever you venture off the
bike trails, the surrounding areas have some steep hills.  Today it was still hot in the low 90s but not so bad because the bike trail is mostly shaded.
There is a stretch on the trail that is like a sea wall and just adds to the delight of riding a bicycle on a trail.  At around mile marker 113 we turned off the C&O trail and got on the paved Western Maryland Rail Trail (WMRT) that parallels the trail.  The WMRT is a nice break from riding on the unpaved, bumpy C&O trail and is just over 20 miles long..  A lot of people write about how bumpy the C&O is but we didn't find it so bad.  We thought it was going to be a lot worse from all the write ups we read.
We arrived in Hancock just as the bicycle shop was getting ready to close.  Dave asked me if I wanted to stay here or ride another 2 miles to a biker campsite.  The owner of the shop told us they had hot showers and a good bar/place to eat was within walking distance.  Decision made!  We slept in a screen enclosed bunkhouse and it was very comfortable.  The showers were great too after a long, hot day.  We walked to Buddy Lou's for craft beers and an excellent dinner then we settled in for the night.
                            Day 3  9/26/17  Hancock, MD to just short of Cumberland, MD 56 miles
Dave had a rear wheel wobble and had the bike shop re-align his spokes in the morning.  We had to wait until 9am for the shop to open so no rush in the morning.  We rode the last 10 or so miles on the WMRT and saw our first deer of the trip.  Always neat to see animals in the wild. 
The plan was to ride to the biker campsite just shy of the end of the C&O today.  Only 56 miles so that should be a breeze, right?  It was another hot day but still we are riding in the shade of the trees along the beautiful river.  We stopped for lunch at Bill's Place which is known to not keep regular hours or days.  We were not too surprised to find it closed although disappointed.  So we ate what we had been carrying for lunch.
Now the fun part started when we arrived at the Paw Paw tunnel.  It was closed for some safety repairs which were almost completed.  So we had known we would be using a hiking trail that goes over the mountain and were prepared for it.  The sign at the head of the trail says "The Tunnel Hill Trail is two miles long, steep and strenuous."   It also says "Do not take bikes on Tunnel Hill Trail."
So we began our ascent up the hill.  We rode when we could but it got very steep, very quickly so we dismounted and started pushing our fully loaded touring bikes up the trail in 90 degree heat.  Dave was in front and he disappeared – I could not keep up with him.  I would pick a spot maybe 100 feet uphill, go for it, then rest and
repeat until I made it to the top.  Dave was on top waiting for me and it made me feel a little better when he said he had to stop once to catch his breath.  I stopped at least twenty times! 
Going down the other side wasn't quite so steep but was narrow and had lots of large rocks to negotiate.  We rode a lot of it with our brakes on and went very slowly.  Finally we arrived at the bottom and passed people on a touring bike with a bob trailer and some recumbents.  I don't know how they were going to make it up the trail but maybe that was their turn-around point.  We also passed two senior women who asked how far and is it bad.  I told them my method and assured them they would make it, just don't be in a hurry.  We found out later that going up in that direction was much easier than the direction we had just come.
Not far after the tunnel, we crossed the Potomac River to go to the town of Paw Paw, West Virginia for lunch and supplies.  We ate at a diner that had John Denver's "Country Roads" words on a hand-made sign.  "Almost heaven, West Virginia…" but the words were wrong!  Oh well.  We had a good lunch and there was a Dollar General just across the parking lot.  We already knew the pickings would be slim as far as food is concerned but we were happy to have it available.  It was still very hot out – in the 90's.
We continued on the trail to just past mile marker 180 to set up camp at Evitts Creek biker/hiker campsite.  It is another very nice campsite with a porta potty, well water, and lots of trains that pass in the night.  We found the trains to be enjoyable and something special about our trip.  Dave had a quest to have beer every night so he asked me if I wanted to go look for beer with him.  I looked at the map and didn't see anything nearby so I said I'd pass and stay at camp.  I was tired and really didn't want to ride anymore that day.  Dave, as always, looked fresh and ready to ride another 100 miles so off he went.  30 to 45 minutes later he returned with a smile and a cold six-pack of IPA!  We ate a dinner made by Dave – dehydrated sauce and pasta.  It was very good and so was the beer.
As it was getting dark, a guy in his 50's rode up on an old bike and asked if he could share the campsite with us.  We said sure and he asked if he could sleep on the table so we moved our stuff and he settled in for the night.  We felt sorry for him because the nights were starting to get cooler but he seemed comfortable.  He left the next morning as we were getting up.  We figured he was homeless and riding between towns.
                                Day 4  9/27/17  Cumberland, MD to Confluence, MD   66 miles
Today we finished the C&O and begin the Great Allegheny Passage or GAP trail.  We heard the GAP was smoother and maintained to remain that way.  It was smoother but also softer.  The C&O is kept to be more like it was in the past and it is also nice.  We peddled through Cumberland, bought some supplies and then we began a 24-mile climb up to the Eastern Continental Divide.  We maintained around 8 mph going up.  Dave would have gone faster had I not slowed him down.  I just got into a nice friendly gear and kept peddling.  The key is to find that gear that doesn't put too much stress on your legs but also doesn't make you peddle too fast and give you too much cardio exercise.  Still, I had to ask Dave if we could stop several times.
It was cool crossing the Mason-Dixon line and the Eastern Continental Divide.  The temperature was definitely cooler with the altitude and an approaching cold front.  We went through some tunnels that were long, dark, and cold inside.  That also was neat and added to our adventure.  We met more than a few cats along the way too.  They come out, look homeless and distraught, but that is just an act!  They probably have nice homes nearby but the bikers and
hikers feed them so they beg for food.  Dave and I both have a soft spot for cats.
When we made it to the top of the divide, the trail levels out and it is decidedly easier to pedal.  It was a long 24 miles uphill for me.  The map shows a slight downhill grade all the way to Pittsburgh but it is basically flat.  Stopped in Meyersdale, PA for lunch at Joe Greens.  Very nice lunch but what I remember most is having the best
lemonade I have ever had.  It is locally made and my variety had Paw Paw fruit
in it.
After lunch we peddled 30 more miles to our campsite in Confluence.  The scenery still beautiful and now looking more like fall with leaves covering the trail.  We passed more farms, fields of corn and even had several Guinea hens run across in front of us.  They're not native so we figured they belonged to a nearby farm.  We camped at the Outflow Campground which is maintained by the US Army Corps of Engineers.  They have a special grassy area for hikers/bikers.  Nice campground with RVs, bathrooms with showers, and a bar nearby.  We set up camp, took a shower and headed out for dinner.
We were now in our "out to dinner" routine where our bikes are unloaded and we are dressed in our street clothes, sans helmets.  The closer Lucky Dog bar was closed so we ventured into town and found a pizza place.  No alcohol is served there but we could bring in our own.  Enough said.  Dave immediately set out to find beer while I waited for our pizza outdoors.  Dave arrived with beer in hand (and a smile) just as the pizza was ready.  He spoke of how he felt somewhat out of place riding up on a bike and going into the local bar (Dodds) to buy a 6-pack.  We ate outside and enjoyed talking with a couple who had brought their own bottle of wine.  Then we headed back to camp for a nice night – supposed to start getting cooler tonight and then cold by our standards the next few days.
                                 Day 5  9/28/17  Confluence, MD to West Newton, PA   54 miles
Got up in the morning and it was cooler out but not cold – yet.  Seeing a lot of neat bridges that are part of the trail and we ride over them.  Very cool.  There is always a train around. The route follows two main rivers which have very busy train tracks that parallel them. We hear trains all night, some places very close to camp and we enjoy every one.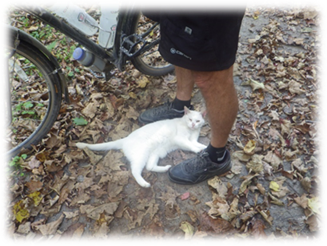 Stopped in Connellsville for supplies and found this is a really nice place.  They have free Adirondack shelters for through hikers/bikers and a large grocery store (Martin's) right on the trail.  Bought lunch, relaxed a little and off we go again towards West Newton.
Scenery along the trail still first rate.  As I said earlier, with riding all day, sometimes you forget to take it in and enjoy it.  We would stop every now and then to have a snack and take pictures and we did enjoy it immensely.  
We made it to our destination of West Newton and camped at Yough Canoe Outfitters.  We had the place to ourselves and they mowed a nice area near the river and away from the business just for us..  This camp will be different for us because we will stay here two nights.  Tomorrow we head to Pittsburgh and return back to this spot – around 70 miles.  We are excited not only because Pittsburgh is our turn-around point but also because we will be riding unloaded.
We made camp, took a shower, then headed into town to find a bar and good food.  We weren't disappointed.
                                 Day 6  9/29/17  West Newton, PA to Pittsburgh, PA and back  70 miles
Pittsburgh Baby!  Today starting out is cooler and foggy.  Everything is wet but that's okay because we're not packing up – just taking the essentials
like our hydration packs, maps, cell phones, and wallets.  The fog burned off pretty quickly and that helped warm us up.
I
The scenery has slowly taken a turn from rural to a more industrial look as we approach the outskirts of Pittsburgh.  Still beautiful and interesting.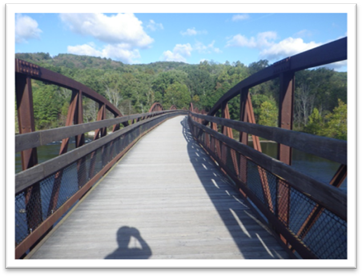 We made it to Pittsburgh and were very happy and excited.  You could feel the energy in the city.  What we saw of the city was very clean and park-like. 
We rode maybe 2 miles up the river on a trail then decided it was time to head back.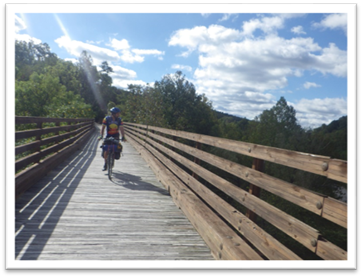 The ride back to camp was good.  We stopped for lunch at a nice restaurant that had outside seating overlooking a river, just southeast of Pittsburgh.  Nice relaxing, basking in our accomplishment and watching river barges pushing their cargo.  Going in the opposite direction lets you see things from a different perspective  and others you hadn't seen like the edge of a cliff you didn't see
because you were riding under it before.  A nice day!!
We made it back to our campsite, took showers and readied ourselves to go out for dinner and drinks.  It was getting chilly and looked like rain so we made sure our tents were fastened down tight and zipped up.  Again in our street clothes of shorts shirt and camping shoes, we head to the same bar, The Trailside, for dinner and beer.  Another fine dinner and IPA beer.  When we were getting ready to leave, someone opened the door and a very cold breeze came in and we could see that it was raining hard outside.  Brrrr. 
Here we are, around a mile from camp, in shorts and it is pouring.  Dave and I exchange a look and decide to have a few more beers while we wait for the rain to let up a bit.
The rain did slow down and eventually stop and Dave saw on his smart phone that we had about an 8-minute window so we booked it out of there and peddled fast towards our camp.  Brrrrr again!  It was cold – a front definitely is coming through.  We made it to the outfitters where our tents are and went under a pavilion just as the rain started in again.
When we got a break we ran to our tents and hunkered down for the night.  We left our bikes in the pavilion so they wouldn't get wet.  I wasn't too happy about the rain because of all the write-ups I had read about the trail becoming a muddy mess.  Oh well, it was a great day and we'll just have to deal with the water and mud tomorrow.
                                     Day 7  9/30/17  West Newton, PA to Confluence, PA   54 miles
When we awoke the next morning, everything was wet and cold but it didn't rain all that much.  Hmmm… Could we be that lucky?  Ate breakfast and then we packed our wet tents into their stuff sacks and dry bags, put our saddle bags back on our bikes and we're off.  A lot colder today and our hands are freezing – we both neglected to bring cold weather gloves.
The trail was wet but not muddy.  We were wondering how the C&O may look since it is notorious for becoming a muddy mess.  We'll find out in a few days.
Our goal is Confluence today and we stop along the way in Connellsville (again) for supplies at Martin's and to dry out our tents.  At the park with Adirondack shelters we hung our tents and tarps out to dry in the sun and they were pretty much dry by the time we re-packed them.  A cold wind is now blowing.
The further we peddle the more we leave civilization behind.  There are the farms, houses, small towns, bridges and other items along the trail but you start feeling like you are really out here on your own.  I guess in reality you are!  Eventually we feel we are "back in the woods" along the trail.  Just us, trees, the trail, and the occasional bicyclist or walker.  This is what I can't recommend enough to everyone – get out there and get lost in nature. 
I can't remember if it was this day or not but at one point, we are in the middle of nowhere on the trail with nothing but trees and the river beside us.  We are brainlessly peddling side by side when all of a sudden just in front of us on our left, these two guys looking pretty scraggly come charging out of the bushes!  One has a very large machete in his hand!  I think WTF and yell at Dave to peddle fast.  We zoomed by and wondered what the heck they were up to.  I don't think they saw us until we frantically peddled by them.  Thank God!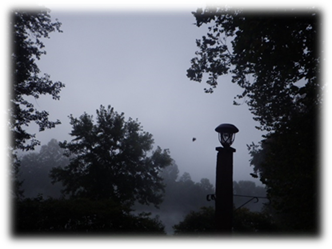 Made it to our campsite for the night at the Outflow Campground in Confluence, PA.  Did our routine:  set up camp, unloaded the bikes and since they were available, we took showers and got ready to go eat at "The Lucky Dog Cafe."  The bar is just over a quarter-mile away so we decide to walk.  It is getting cold with the forecast of low 30's tonight so we wear our rain jackets and long pants for added comfort. 
We met a fellow biker going the other way at the bar and he was very nice.  When I complained about how cold my
hands were while bicycling, he offered me his extra set of gloves but I declined.  I have gloves but I left them home – that was a mistake because our hands suffered in the cold on several mornings. 
Well, I don't drink all that much in my old age but the beer was going down easy.  I only had 4 strong IPAs but I was looped and having a good time.  Dave seemed unfazed but happy as is his usual self.  His wife warned me that he is a "professional drinker."  Again we had a fine time at the bar talking with the others around the bar and the bartenders.  A good meal was had although I can't remember what I had.  When we got back to camp I realized I lost my wallet!  Dave suggested I call the bar because they were closing at this minute.  I called, they had my wallet, so I ran all the way to the bar, thanked them and walked back in the cold, dark night.  It was a brisk walk and I was ever so thankful I found my wallet.  At 58 years old, I have never lost my wallet.  I guess my luck was still holding in that category.  Nighty, night.  I slept well that night.
Day 8  10/01/17  Confluence, PA to 8 miles east of Cumberland, MD   72 miles
Woke up to chilly conditions:  foggy and in the low 30's.  Today's plan is an easy 38-mile slight uphill to the Eastern Continental Divide and then a nice 24-mile downhill to Cumberland, MD where we will have lunch.  After that another 10 miles gets us to our hiker/biker campsite.
We were suffering with our hands getting frozen as we were riding.  The cold wind hitting our hands made it pretty unbearable.  Dave had an idea that maybe his latex gloves would help so we put them on.  They did help a lot but our hands were still very cold.  Note to self:  bring full-fingered gloves on your next bicycle adventure.
Today I tightened my seat a lot and now it really feels good. The leather was sagging causing most it not all my issues. We went 72 miles and I did not squirm in my seat at all and my butt did not get sore.  Amazing.
We stopped in Meyersdale, PA for lunch again but the shop near the trail wasn't open.  So we rode down a very steep hill and went into town.  We saw a mom and pop
diner on our map and headed for it.  It was yet another very fortune stop for us on this trip.  Very good food and we both had roast beef sandwiches smothered in gravy with fresh fries on the side.  Very good.  Dave said he had never had an open-faced sandwich in gravy before and gave it his approval.  The restaurant was a little quirky and seemed like we were in a strict bible-belt area.
We met more cats along the way – Dave actually had bought food for one but we didn't see it on our return trip.  The downhill after the divide was pretty neat.  We caught up to other bikers and at one point I joined a peloton of 7 bicycles fully loaded going 18 to 21 mph!  It was a cool sight but probably dangerous on the rough road and being fully loaded.  I dropped
out after a mile or so but it was fun to do.
At the end of the downhill is Cumberland, MD so we stopped for a beer and then bought dinners to bring with us to our hiker/biker primitive campsite.  The weather was warming up a bit and our hands were thankful that the rest of the trip would have warmer mornings.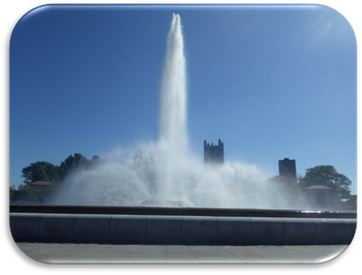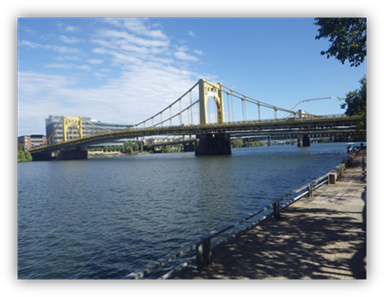 Made it to camp and enjoyed the dinners we brought back with us and of course, beer.  Train tracks close by and a train bridge very close so we hear the trains much clearer and louder.  The squeaks, creaks, banging and whistles are actually soothing.  It is a treat for us and I don't know why others dislike it so much.  I guess I am always very tired and the noise just doesn't bother me.  I am really enjoying the stress-free riding on our return trip.  We only need to average less than 55 miles per day from here on out.
                               Day 9  10/02/17  8 miles east of Cumberland, MD to Little Orleans, MD  37 miles
We get up leisurely and on the trail by 9am.  This is really late for us since on most trips we are up before light and ready to roll just after sunrise.
Today we have to negotiate the Paw Paw tunnel bypass again.  I have been dreading this.  Dave wanted to just ride on the roads and go around it.  I was trepidated since I knew that as soon as we leave the trail, the roads can have some mighty steep hills.  They don't scare Dave but they terrify me!  To my delight, while in Cumberland I went to a bicycle shop for advice on roads to take.  They guy there said "You are NOT to try to ride around the bypass!!"  He went on to say that either we would get killed or we would cause others to get killed when they tried to avoid hitting us.  The road has n shoulder and is narrow with 50 mph speed limit or something like that.  So, we decided we would once again push our fully loaded bikes over that dang mountain.
As it turned out, going towards DC was sooo much easier than the other way,  More switch-backs made it a lot less steep going up.  Very steep going down but gravity helps a lot going down.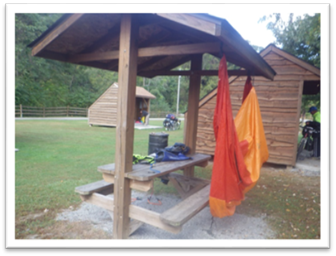 We stopped for lunch at Bill's Place and this time it was open.  The owner said that some days they are open all day and get no customers or only one or two.  So on some days they just don't open.  We were glad they were open today.  Very neat place with good food and of course, beer.  Friendly atmosphere and like everywhere we visited, it was nice to talk with the owners and others at the bar and hear their stories.
Our campsite tonight is Indigo Neck hiker/biker campground.  We set up camp, made dinner and drank a six-pack of beer we brought back from Bill's Place.  A group of younger people showed up and asked if we would mind them camping at the site.  We said of course they could.  They were a group of two girls and a guy who worked together and one of the girl's older brother.  It was fun having them there and seeing how unprepared they were but they just rolled with it.  They had to make it to DC in a few days and were winging it and having a blast.  The one guy did not have a sleeping pad and was uncomfortably cold in the night.  He also had a very small bivy tent.  We saw them several times in the next two days.
Dave and I made a fire – it adds so much to the camping experience.  We are usually tired and lazy but it is sooo nice! 
                                                 Day 10  10/03/17  Little Orleans, MD to Williamsport, MD  47 miles
The weather has warmed up and we are in our shorts just after a couple of minutes of riding.  I had been wanting to find and eat Paw Paw fruit since I heard someone talking about them.  I looked up the plant on Google and once I knew what to look for, I was on a mission!
I spotted trees but no fruit.  Finally I saw one!  It is like a banana/mango mix.  The texture is more like a banana and they get squished easily.  They are ripe when they are soft.  The trees are tall but narrow so I found that when I found a patch (they grow in bunches like a small Paw Paw forest) I could go in and shake the trees and fruit would fall.  Many would burst when they hit the ground since they were like rotten bananas but I would still get a few.  I liked them and Dave tried a bite and then said no thanks – it was okay but he didn't think it was that exciting.  I liked them because I hunted them and found them out in the wild.
We stopped in Hancock, MD to buy groceries for lunch and dinner and Dave went on a beer quest.  There was a big hill involved so I told him I would wait for his return.  We were frustrated because it seemed not many people knew where to buy beer and the ones that gave Dave directions got it wrong. 
Luckily Dave met someone who was driving and asked.  The store was a lot closer than the round-about way he was originally told to go.
We made it to our campground named Opequon Junction at mile marker 91.  Life is good!  I was enjoying not being stressed out and exhausted every day.  I also think I've got used to the grind more and have gotten stronger - that and finally fixing my seat issues.
Tomorrow will be getting warmer again – in the 80's.  Luckily we ride in the shade almost all the time.
                                    Day 11  10/04/17  Williamsport, MD to Brunswick, MD 37 miles
 Morning from my tent. fog drifting on the water.  Time to get up and make coffee.  First thing we do is pump water from the well at the campsites (well, after we use the Jiffy John!)  Then we eat, get our stuff together and packed, and we're on our way.
This morning we had beans and Vienna sausage for breakfast.  Sounds gross but it was good while camping and stayed with us for a long time – it was filling.
 Another beautiful day filled with sights and sounds.  We have really been enjoying this ride.  We had lunch in Shepardstown, MD at the Blue Moon Cafe. It's a college town and another cool place to visit.  If you go near here, you must stop at the Blue Moon Café – it's awesome.  We saw the group that camped with us at lunch.  They were still having a blast.  I had to ask the one guy about a pile of leaves we saw at another campsite we passed – they were in the shape of a small tent.  Yes, he tried to insulate his tent from the ground using leaves.  It didn't work and we all had a good laugh.
Made it to our camp in Brunswick, MD and took a nice, long shower – we hadn't had one in three days.  Rode into town for dinner and ate at a Syrian restaurant.  Dave had a good time reminiscing with the owner about Syria since they have both been there.  The food was good and Dave said it was authentic.  Of course beer followed dinner then we rode back to camp for yet another nice night with the sounds of many trains going by.
                              Day 12  10/05/17  Brunswick, MD to Cabin John Creek 45 miles
We are excited that it is almost over and the last few days were relaxing with getting up late 7am plus and doing 40 to 45 miles.  Got warm out again in 80's with nights in the 50s.   Beautiful morning, we were awaked by a bunch of geese honking.  There may have been a hundred at one point.  By the time I got my phone out to record they had passed.
We stopped at White's Ferry again and I got an egg sandwich because it smelled so good.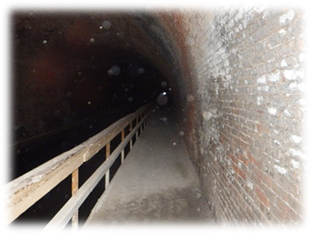 Beautiful scenery and things looking familiar as we ride by scenery we saw what feels like a long time ago. 
Tonight we get to stay in one of the lockhouses that is run by the C&O Trust.  We rented it because it is close to DC, has showers, and is just a neat thing to do.
The lockhouses are a part of history.  The lock masters lived there and would man the locks for the towpath.  We really enjoyed our stay in Lockhouse 10.  We did our routine:  took showers, put on our street clothes and rode into town for dinner.  We had a nice Italian dinner.  Not far from the house but had I not researched with Google Maps, I would not have known it was there or how to get there.
Of course we bought beer!  Officially we drank the beer in town then went back to the lockhouse since alcohol is not allowed in the C&O federal park which encompasses entire C&O towpath.  We had a good night and slept in our sleeping bags on the beds.  I guess you need to bring your own linens and we had ours!
                             Day 13  10/06/17  John Creek to Union Station, Washington DC 13 miles
Our last day!  Yippee!  Actually it was exciting but also some melancholy because the adventure is almost over.  We rode into the local town for breakfast and then back to the lockhouse to pack up and head towards Washington, DC.  Another nice day but going to get warm in the mid 80's or even 90.  The path steadily started showing signs that we were getting closer to the city.  We see more roads off to the sides, more people, and eventually more buildings.
The last few miles as we approach Washington DC get a little tedious because we are on a narrower path in the city and have to navigate several detours on streets.  It is very cool getting closer to DC and we have no problems riding on roads since we do it all the time.  This was fun!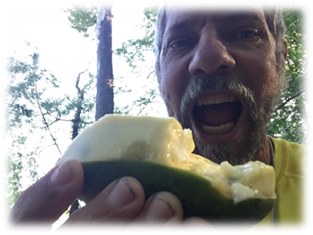 We made our way back to mile marker zero which is behind Thompson Boat Center then headed to Union Station.  Seeing the capitol is always a thrill. 
I asked Dave if we could stop at the Vietnam War Memorial because I had never seen it.  He watched my bike as I walked up to it, saw how big it was (God, all those people who died) and got teary-eyed as my emotions got to me.  I touched it and walked alongside of it for a while and tried to take in some of the names.  I wasn't in the war but it was all I saw on television every night during my childhood in the 60's and early 70's.  All the people I'll never meet, the kids who were not born, the discoveries and great things never accomplished…
I shook it off as best I could and got back into the moment.  We did it!  We rode through Washington to Union Station and felt a little awkward walking our bicycles still fully loaded, in our spandex shorts and bicycle shirts.  Then we looked around and realized we weren't even close to being the most conspicuous people there!
We bought boxes at a UPS Store at the station – Amtrak had no boxes left?  Anyway, we bought tape and boxed up our stuff and gave them to the train people to hold for our train.  It was stressful getting everything done including finding out how and where to bring our bikes to load on the train.  It took a lot more time than we expected and the whole station was just buzzing.  We had planned to ride around the city and explore but by now we were exhausted so we found a restaurant and ate lunch.  Then we sat and waited for our train.  The train ride home was long and uneventful – thank goodness.
This was another great adventure.  I could not have had a better companion – I hope Dave feels the same way or somewhat.  We got along great.  There was never a bad feeling or ill words said to one another.  That is amazing for an adventure-style trip of 12 days!  The only time anything was said that was negative was when we were going up a steep hill in a town due to a trail bypass.  Dave pedaled around me and said "I can't go that slow!"  I don't do well on hills…It was fun and really cool going into small towns and eating at their taverns/bars/mom-pop diners.  We had great food and beer every night and met interesting people.  This turned out to be somewhat of a foodie trip too and we had a great time.  Please if you are thinking of doing a trip for a day, week, month, or longer, just do it.  Life is short.
Resources:
We bought the C&O and GAP trail guide at  https://gaptrail.org/plan-a-visit/trailguide
Very helpful website:  www.bikecando.com/
Used Google Maps to plan especially to find towns with re-supply grocery stores
Used Google to research
Notes I posted to a website to help others plan a similar trip:
I have posted this to help others who are planning to do any part of either trail. Just do it!!!

We did a 680-mile, 12-day self-supported, camping round trip from the DC Union train station to Pittsburgh then back. It was a blast! The ride was from Sep 24, 2017 to Oct 5th.

It did not rain on us which was unbelievable. We had rain one night but we were at a bar and settled in with more beer until the rain stopped. We were so lucky - I was dreading a wet muddy day(s).

We took the train from South Florida with our bikes roll-on - we did not have to pack them. It worked out great for logistics and ease.

What we learned:

The train is a long ride (21 hrs for me) but not bad. Not bad price either when including bicycle.

DC train Union Station is a zoo - if you go, have plenty of time if you are travelling with your bike. otherwise, not too bad. It was my first train experience.

Bicycle:  Mine was a Surly Long Haul Trucker with front and rear racks. 26 x 1.75 wheels that worked fine on the paths that were dry during our trip.  Dave has a Surly Ogre with 27 x 1.75 wheels and it also was great for this trip. 
My Long Haul Trucker set up:  I consolidated and only used the rear racks with panniers, strapped my tent on the front, my sleeping bag and pad strapped on back - all in dry bags.  I've experimented and having loaded front panniers pulls me down and really makes me feel like I'm struggling to peddle - especially on hills.  It was a great last minute decision NOT to bring front panniers.
Brooks saddle.  I had issues for the first 430 miles of the trip with my seat comfort. The leather was softened (my fault for applying too much conditioner over the last 5 years) and I did not tighten it (I may have loosened it in the past).  I was so uncomfortable with days over 50 miles so at one point I just really cranked down and tightened it up.  It was like a miracle!  I rode 70 miles without moving around in my seat and no pain.  If you find yourself uncomfortable in your seat and you are sure the height , angle, and reach are good, consider tightening it if it is adjustable or find a different seat - softer is not better.  I also averaged between 1.5 and 2 mph faster.



Clothes - 5 shirts (mix short and long-sleeve), 2 bike shorts, one cargo shorts with pockets for going to town, etc, one rain jacket - doubles as warm jacket for cool nights, one long warm pants, 5 socks - the thin merlino wool ones worked best. 1 pair of sneakers - I had large pedals for off-rode bicycling, and one pair of camp shoes - I had water-Crocs that were comfortable to walk distance in. That was my list and it worked well. I would add light weight gloves - we had 2 days that our hands suffered in the mornings.

Since we were self -supported we had cooking gear, stove and pot but we ate lunch and dinner mainly in towns. A few times we bought lunch and dinner supplies because we knew we would not hit a town for some meals. We ate breakfast at camp - bought food that day or previous day. We had a good checklist of towns and places to buy food.

Tent: I have a 5.5 lb Kelty but also a 2.2 lb Big Agnes hiking tent. I took the Kelty because it is easier to set up - true free-standing. That was another great idea. I didn't want to mess with extra ropes, stakes, etc when I was tired after a long day.

Sleeping bag and pad: I had a 20-degree down bag which was perfect and a thermarest (non-inflatable folding type) pad - also perfect.


We both had a 70oz backpack hydration pack along with two water bottles on each bike.  These were fantastic.  Dave talked me into getting one and I'm glad he did.  Makes keeping hydrated a lot easier and on days we leave our stuff at camp, they are good for bringing what we need to go into towns.
Accessories:  We both brought a spare tire, 3 spare tubes, patch kits, some chain lengths, spare spokes, minimal tools – tire levers, multi-tool (with all needed allens), screw drivers – both kinds, chain tool, extra long allen needed for pedals, personal knife – great for eating oranges, Paw Paw fruit, and opening stuff we bought for lunch.
Would add for next trip:  Warm full-finger gloves if temperature may get cold.  We suffered on two early morning rides.

Here is what really helped out and I can't stress enough that you should do this too:
My friend made a checklist for each mile marker where there was food, camping, bars, places to buy stuff. He also made copies of the maps. All was laminated and cut to 2 x 11 inch strips. These were invaluable because they were waterproof and readily available. I had everything marked in the trail guide and figured I would just pull that out when needed. That may have worked but it is damp along the trail