Day Seven: Friday, February 22, 2013 
All Night Paddle !!
Day seven actually began on day six with wake up at 11pm Thursday night.  We were all ready to launch by midnight.  Ronnie, Stew, and Dave push off and are waiting for Sam and Phil to launch.  It is really dark, but not too cold so Dave is wearing a long sleeve shirt and shorts.  He didn't think that it gets colder as the night progresses and he wished later that he was dressed more appropriately.
There is a loud splash and we look to see that Phil went over while trying to launch.  In his words "As I shoved back and was sitting down, the kayak listed sharply to the right and water rushed into the cockpit.  "Was this really happening?"  I thought.  It was dark, and cold and now I am going in the river before we even get started.  I fell partially in but landed on my feet as I watched my kayak roll over beneath me."  Then "I noticed that nobody seemed to be making too big a deal out of what just happened, so I put on my big boy pants and poured the several gallons of cold water from my cockpit, sponged it out, and got back on my horse."
Phil launched again with being a little embarrassed and worried about the upcoming all night paddle but he was ready to paddle.  The rest of us laughed after we found out he was all right – all part of the trip.  In retrospect, we should have made sure Phil changed into dry clothes because it was going to be a long, cold night on the water.
         Midnight Run                                                                            We're Off!
 <![if !vml]>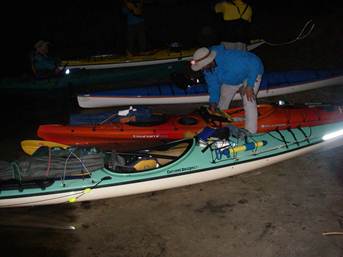 <![endif]>    <![if !vml]>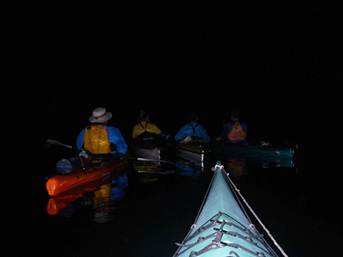 <![endif]>
Ronnie's report:  "We started down the twisting river under the moon light.  You could see pretty good as long as the moon didn't hide behind a cloud.  There were plenty of clouds and it went from bright to dark on a regular basis as we paddled along.  The air was still and the only noises other than our paddles were an occasional fish jumping out of the water or a disgruntled bird, usually a heron, squawking as he flew off to find a quieter nighttime perch. 
The river split into three forks, the right and left being smaller and the center fork being the larger channel.  Sam selected the right channel, but the rest of us felt the open channel would be our best bet.  The group stuck together and went down the center.  It wasn't long before we were getting into a log strewn mess that rapidly became impassable.  Lost in the swamp again, I thought, would not be such great way to spend the night."
Phil's rendition:  "As we paddled down the selected trail, we had some serious tree obstructions and I noticed that none of them were cut to make a navigable path.  I became suddenly very uncomfortable and began to question myself as to what I was doing there.  Why had I agreed to this?  After seeing that this was clearly not the right path, Dave and Sam agreed to turn around and go the other way, Thank God!"
We back tracked and headed down Sam's original choice.  Just around the first bend the river began to open up and we could tell we were on the right path.  We continued down the river for about 7 miles.  In the darkness it seemed like a jungle scene.  There were logs and stumps to avoid and large areas of plant life in every corner.  Sam and Dave led the way with Sam calling out "Log on right!" and Dave every now and then correcting "No! It's on the left!"  We were maybe a little sleep deprived. 
The darkness made it much more exciting.  The occasional noises in the woods were an eerie addition to our paddling.  You could never see what had made the noise and we paddled on, barely speaking, all together, but everyone on their own.  Abruptly the river opened up into a much larger river.  We had made it to the Saint John's River.
The Saint Johns River was wider than anywhere we had been before and we were paddling against a slight current as we headed upstream toward Lake George.  The moon had dipped lower toward the horizon and with heavy cloud cover; Ronnie was often following the other kayaks by sound more than by sight.  It was an eerie feeling to be out there in the middle of a wide expanse of water, in the dark, and for all practical purposes, alone.  Turning over out here would be devastating.  There were real risks involved in our night time adventure but we are not daredevils.  We consider the risks and take what Dave likes to call "calculated risks" that are not crazy (in our minds at least) but adds a little excitement to our trips and other adventures.
           Phil  in the dark abyss                                                                                Stew
<![if !vml]>
<![endif]>    <![if !vml]>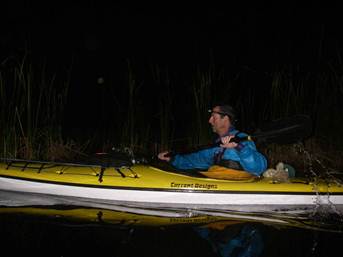 <![endif]>
The river broadened and we entered Lake George at some nondescript point.  The moon dropped below the horizon and only the stars lit our way.  The shore was a small black band on either side and we were somewhere in the middle of the lake on water that looked like glass.  The cold had settled in and we paddled on, not speaking much, everyone intent on crossing to the other shore and the river leading to Salt Springs.  The miles passed in the darkness.  The cold air grew colder and colder.
Below is a classic report from Phil and worth reading because as was said before, what some think is fun, exciting, or even not that big of a deal can be huge to someone else and we all need to be cognizant of this when taking others for paddles and other adventures. 
Phil :  "As I paddled, seemingly alone in the middle of a dark, cold, and wet abyss, I started thinking if this is what Hell might be like. I was very sore and very tired. I was not able to move from my seat, and my actions were monotonous. Right, left, right, left, right left, went the paddle blades into the water. The three faster paddles were far ahead and Ronnie was somewhere nearby, but I could not hear or see him. Dark and miserable solitude, this IS what Hell is like. I was in Hell, but knew that if I could survive, I would soon be in Heaven...on shore, eating, sleeping, warm, and dry. Paddle on. Paddle on."
   What's that?  Maybe a kayak!                                                Ronnie looking at the stars
<![if !vml]>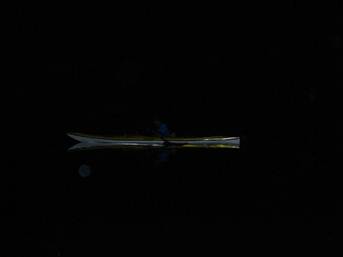 <![endif]>    <![if !vml]>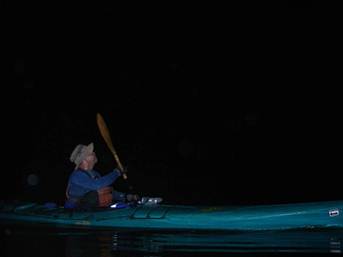 <![endif]>
Ronnie and Phil were in the back of the pack.  Stew, Dave, and Sam were ahead and the only way Phil and Ronnie knew where they were was that Dave wore his head lamp backwards, using his red light.  Dave and Sam were both using their GPSs for guidance across the lake.  The edge of the lake looked like a black band with no indentations in the distance.  Ronnie:  "Finally, after chasing the other kayaks for an eternity, they came to a stop and Phil and I caught up."  Per the GPS, the mouth of the river should be nearby.  Sam turned on his bright flashlight and it split the darkness.
There it was, as predicted, the sign for the river.  We had made it across Lake George in total darkness to the exact spot we needed to be, thanks to modern technology.  We paused for a short break on a beach and then began to paddle up river, anxious to end our self-induced night time ordeal.  We could tell daylight would soon be upon us.  There were small details along the bank and instead of total black outlines, we could begin to make out trees, reeds, and plant life that had been shielded by the dark and was now only masked by a light fog. Dawn was breaking.
<![if !vml]>
<![endif]>
We paddled for about 5 miles up the river and morning was upon us.  We saw lots of fish in the clear water and there was also some other movement just below the surface.  Manatees!  Sam was in front of us all and when he got over a pod of manatees they all of a sudden exploded into what can only describe as a stampede!  They broke the surface, causing Sam's kayak to become unstable and nearly tip over!  They fled in a thunderous rush of splashing water and charged ahead of our group in a matter of seconds.
The river seemed to end in a large pool.  We had made it to Salt Springs.  It is a very large pond with crystal clear water.  Phil made a mad dash to the finish and you could tell he was thankful to be done and on dry land once again.  We arrived just after sunrise at around 7:05 AM on Friday 2/22/2013.  As the rest pulled up there was yet another loud splash but followed by wild laughter.  We all looked to see that as Ronnie tried to get out of his kayak after an all-night paddle, he just fell flat into the water.  He was elated and thought it was too funny that he made it through the whole trip without a mishap until the very last instance.  He wrote  "The two things I was sure of, it had been quite the adventure, and I had seen wild manatees. Wet or not, I was thrilled."
           Take out at Salt Springs                                                        Phil:  I made it !!
<![if !vml]>
<![endif]>    <![if !vml]>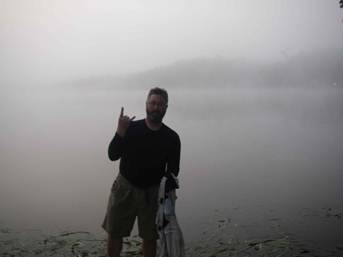 <![endif]>
<![if !vml]>
<![endif]>    <![if !vml]>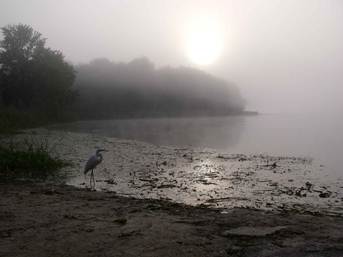 <![endif]>
An otter appeared to see what all the commotion was about.  Then we walked up to our campsite where next door Jack and his friends were camping.  So we started talking loudly and Jack came out of his tent.  "I didn't expect you until around noon!"  We had made great time in the night paddle.  Everyone seems to go faster at night.
Jack once again made us all a great meal for breakfast.  We set up camp and Phil sat down and looked totally spent but you know what?  He did it.  We all did – as a team.
We spent the morning shuttling cars from Nelson's Outdoor Resort (our trip starting point) back to the camp, running errands, and napping.  Stew and Dave explored the springs in their now empty kayaks.  Later in the afternoon, Sam, Dave, and Stew bought a bottle of champagne and delivered it to the honeymooners we had met at our last campsite (Davenport Landing).  We thought it would be a nice gesture to bring it to them and it was only a short drive away by car.  Upon arriving back at the camp, we found their camp site to be still there (we knew they were staying until Sunday) but they were off somewhere in their Jeep.  Dave put a "Paddle Across Florida" contact card and the bottle of Cold Duck at the door of their tent, took a photo of it for his blog and we left.
Stew: traditional of burning of his trip underwear                     Exploring Salt Springs
<![if !vml]>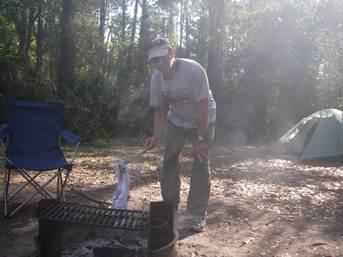 <![endif]>    <![if !vml]>
<![endif]>
<![if !vml]>
<![endif]>    <![if !vml]>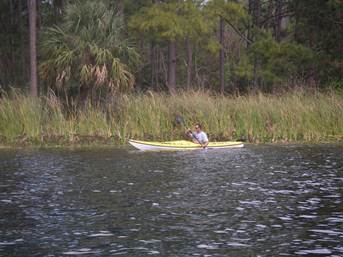 <![endif]>
  Champagne left for the newlyweds                                        Have a wonderful marriage guys!
<![if !vml]>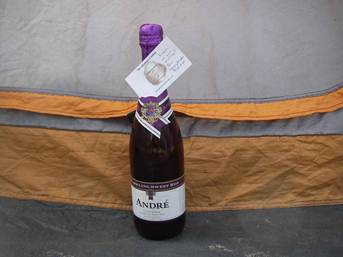 <![endif]>    <![if !vml]>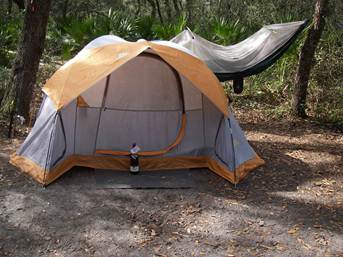 <![endif]>
Ronnie went down to the spring with snorkel and goggles and joined several other people swimming in the shallow water.  The manatees were there, eating the vegetation growing on the bottom.  As he swam, Ronnie collected small plant pieces floating on the surface and offered them with an out stretched hand.  A manatee swam over and ate from his hand.  
Dinner, again compliments of Jack, was an awesome Tortellini Soup.  Jack added so much to our trip with his making us dinner and just visiting with us.  He is a great guy and good friend.
<![if !vml]>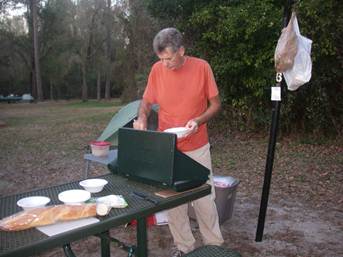 <![endif]><![if !vml]>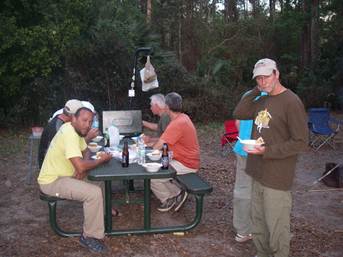 <![endif]>
Phil's conclusion:  "After getting some rest, I pondered the week past.  I overcame some incredible challenges and believe I will look at adversity differently from here on out.  I was definitely out of my comfort zone and learned a lot about kayaking, camping, and myself.  I made some new and wonderful friends and plan to do this again and again.  What river lies ahead?  Only the future knows."
Ronnie:  "My paddle adventure to Florida turned out to be much more than I had ever imagined."
As for the Paddle Across Florida regulars – Sam, Stew, and Dave, that is what it's all about and we are very glad we could share the experience with others and touch them in a way that will last forever.  Dave had told Phil's wife who was in tears as he left home for the trip: "We will return him a changed man" and that we did.