Peace River
Feb 18 – Feb 25, 2012
Paddlers:  Dave, Sam, and Stew
Kayaks:  Current Designs Solstice GTS, QCC 500, Current Designs Solstice GT; same order as paddlers list.
Preface
We originally planned to explore the Okeefenokee Swamp and do the top part of the Suwannee River but due to fires in the swamp and very low water conditions, we chose the Peace River as an alternate.  It is closer to where we live and on our "bucket list" anyway.  The low water conditions also greatly affected this trip.
We've discovered that as a group (well most of us, but especially the three that went on this trip) enjoy the challenge, struggle, and yes, the suffering we endure on some of our trips.  It is in the camaraderie and the reward of doing something that it is difficult - that a lot of people would not do.  As with all our trip reports, we hope reading and seeing our trip will enthuse you to do your own trips and have some great experiences.  Remember, the challenge and adversity is part of the reward of accomplishment.
We intended to start in Bartow, FL and end up in the Gulf of Mexico.  We did start in Bartow but ended our trip in Punta Gorda because the weather was deteriorating and we had strong winds with gusts over 25 mph.  We decided we had nothing to prove and none of us wanted to paddle the last day of 25 miles against those winds in open water.
Saturday, Feb 18, 2012        Drive to Arcadia, FL;  shuttle to Bartow, FL, start trip
Of course, being the Peace River, we just had to have a photo op in order to "get into the groove!"  This is one of my favorite photos of all our trips so far.  It captures the thrill of beginning a trip and friendship.
We have always been very lucky while planning our trips as far as finding contacts who can help with the planning and shuttles.  This trip was no exception.  We came into contact with Tom who is very familiar with the
Peace River.  This is the first thing he emailed to us:  "I would like to give you some advice on your trip plan. The upper Peace River from Bartow (Hwy 60 launch) to Homeland (CR640 Heritage Landing) is currently reaching condition where it would be inadvisable to attempt paddling on this 7 mile section of the river."
We were bummed but after asserting that we are a hardy bunch and we really want to do it he relented and said it is possible but then again he pleaded with us to take plastic kayaks.  We didn't have plastic touring kayaks and said we will be fine in our composites.  In the past, we have had people tell us we couldn't do it or that we wouldn't make it and we were thinking this may be more of the same, but it wasn't.  Tom gave accurate information and our first two days were really a struggle with the low water but especially due to fallen trees and debris in the water that does not pose a problem at higher water levels.
Tom met us in Arcadia and shuttled us to Bartow with his truck and trailer.  This was great because the logistics of shuttles is always a concern on our trips.  We were very lucky to have met Tom.  The water came up a little in the last few days, but not by much.  We launched at Bartow around 10 am and had a very long day ahead of us.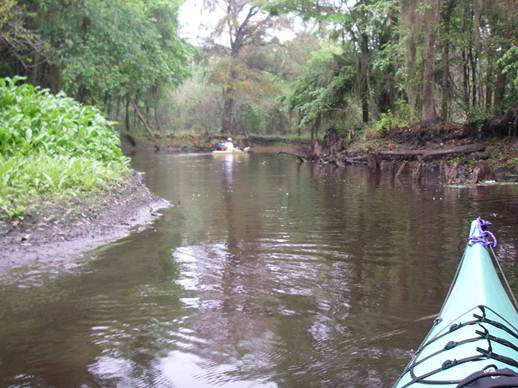 The water in Bartow seemed plenty deep and we were excited.  Soon after we turned several bends the water became very shallow and the river extremely narrow.  We had to get out and pull the kayaks a little, heck, a lot!  Then we started running into river blockages where trees had fallen and piled up over the river.  We were still in very good spirits and knew this was just part of the adventure which we gladly accepted.
We were exhausted from constantly lifting our fully loaded (packed for 8 days) kayaks over fallen trees – some trees were over 3 feet in diameter and piled on top of each other.  Walking the kayaks in the water wasn't so bad except it seemed like every minute we would have to stop to get out of our kayaks to pull them through shallow and rocky areas.  During one lift over fallen trees we let go of Dave's kayak too soon and the rudder caught on the tree and there was a sickening bang, snap as the rudder cracked off the kayak.  Luckily, the kayak was okay but the rudder was just dangling.  We held it on with bungee cords for the rest of the trip.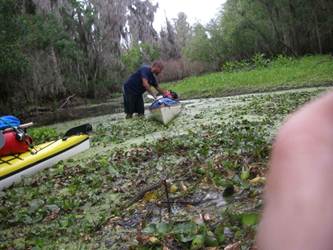 Our best Friend
We all had a short piece of rope to attach to the front of our kayaks in case we had long stretches of pulling over sandbars/rocks/hazardous areas or if we were in water that was just too shallow to paddle.  What a blessing these things were!  We used them frequently – seems like we used them almost constantly on the first two days.  Very handy so we didn't have to bend over to grasp the front loop on our fully-loaded kayaks.  It was a last-minute thought to bring and they turned out to be a life-saver.
The scenery was beautiful and it was neat seeing the area with very little water.  You'd think it would be easy to follow the river but I have to admit we took 4 or 5 wrong turns – one of them down to Dover Sink where the water literally disappears into the ground.  It once was a spring but due to water use in the area, the water now flows down into the ground. 
At the end of day one we had logged around 8.5 miles.  When Tom had told us it would take us all day to do 6 miles we all inwardly said "yeah, right" but he was right.  The low water and especially the fallen trees slowed us down to a crawl.  We still had good spirits with the sense of adventure and the knowledge that we, as a team and friends, will persevere.
We found a great campsite after deciding to push a little longer from a park that had a sign saying "no camping" and a local confirmed the nightly police patrol would make us leave.
As with all our trips, the most memorable moments usually entail our chance encounters with others.  No sooner had we set up camp, an ATV comes along and we are very scared that the guy will kick us off of his land.  We were so exhausted and knew we would not find another place in time before dark.  The guy says "Hey, are you boys poaching?"  We say "No" and he comes over to talk to us.  His name is Tom and he is friends with the Tom who shuttled us to put in.  After he surveyed our kayaks and camping equipment, he was satisfied that we were serious paddlers.  He told us he had issues with poachers in the past and that this was his land.  Then he pointed to a fire ring and asked us to use that for our fire.  Great relief on our part that he was allowing us to use his land.
Here's the part that always get us about how lucky we are on our trips.  Tom asks us if we want any ice.  We were puzzled and said we had no use for ice and he says it's for the beer.  We all think to ourselves, beer?  He said he'll be right back with beer and ice!  We finish setting up, make dinner and get the fire ready.  As promised, Tom shows up this time in his truck with a large cooler filled with beer and ice and says it's on him.  Unbelievable.  What a treat and a lasting memory from this trip.  Thanks Tom!