Everglades National Park Wilderness Waterway Kayak Trip
February 15 – 22, 2008
TRIP REPORT
<![if !vml]>
<![endif]>
Our group consisted of three: Tom who drove over 1700 miles from Wisconsin, Stew who lives in Palm Beach county, FL and Dave who also resides in Palm Beach County, FL.  We had done two previous trips – one two years ago (February 2006) across Florida from Sanibel Island to the Atlantic Ocean via the Okeechobee Waterway (165 miles in 7 days) and last year (February 2007) we did the entire Suwannee River from Fargo, GA to the Gulf of Mexico at Suwannee, FL (235 miles in 8 days) – that was a great trip (must do it again).  We decided upon the Everglades National Park's Wilderness Waterway because we've read so much about it and we wanted Tom from Wisconsin to see one of the wildest parts of Florida.
The route began in Everglades City and tracked the Wilderness Waterway "inside route" to Flamingo then returned via the "outside route" along the Gulf.
<![if !vml]>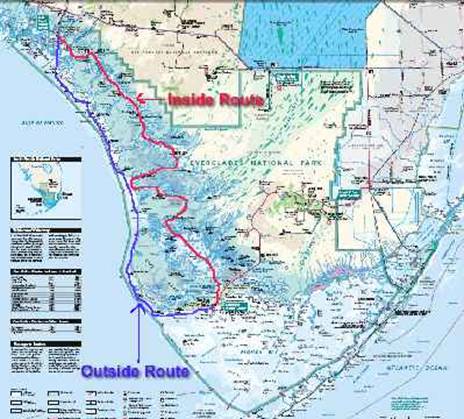 <![endif]>
Day one Feb 15, 2008, Stew and I drive together from Boca Raton, FL to Everglades City.  We eat breakfast at the Triad restaurant – it was a very neat place to eat, right on the water.  We ate outside in a screened room that goes out over the water.  Then we drive to the Gulf Coast Ranger Station in order to secure our campsites for the next 8 days.  We wanted to be one of the first in line when they opened at .
I was nervous about not getting one of the campsites on our list since I really didn't have any alternatives in mind.  I was relieved when the ranger said "Yes, it's available" to every campsite and date we requested.  As we were finishing up in walks Tom, our 3rd member who drove all the way down from Merrill, Wisconsin – over 1,700 miles!
We anticipated him getting in early but not until or so.  This was great because I had cancelled our in-town reservation and booked the Lopez River campsite which is an 8-mile paddle from the ranger station in Everglades City.  We walked around the area for a little while and perused a few stores, then decide it was time to get our adventure underway.
It took a while to get our kayaks all packed up.  No matter how many trips we go on, the stuff just doesn't fit well the first time we pack!  That's why Stew and Dave always bring a spare dry bag for overflow.  Tom is usually good at getting it all packed in.
Almost Ready!!
<![if !vml]>
<![endif]>
Finally we're off! We've been anticipating this trip for a long time.  The 8-mile paddle from Everglades City to our first campsite at Lopez River campsite is pretty routine except for picking our way around the oyster bars near Chokoloskee Island.  They are big and could do some major damage to our kayaks.
Day One Friday, February 15, 2008 – 7.8 miles
<![if !vml]>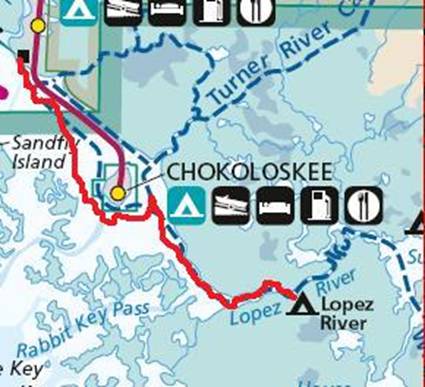 <![endif]>
Stew, Tom, and Dave at the Lopez River campsite
<![if !vml]>
<![endif]>
Lopez River campsite is small but an easy paddle up the Lopez River.  It has remnants of a cistern and a few nice places to pitch a tent.  We met a father and his four sons who were out on a multi-day canoe trip.  Very nice family.  We were lucky that there were few bugs out on our first night. . We made dinner and watched a beautiful sunset as fish jumped and dolphin came by in search of food.
Day Two:  Arise at , cook and eat breakfast.  As we are loading the kayaks we notice a bunch of small green glowing things in the water.  They look like fire flies in the water!  When we picked them up they are actually small globs of jelly – I believe a type of jellyfish.  This was great because we've heard and read about this but had never seen them.  Pretty neat stuff.
Day Two Saturday, February 16, 2008  – 19.4 miles
<![if !vml]>
<![endif]>
We paddle through many mangrove islands that all look the same while watching for the next Wilderness Waterway marker.  Dave has the charts, compass, and is also equipped with much of the markers and campsites loaded in his GPS.  Tom was also prepared with individual charts he printed out and his new GPS loaded with all the key points.  We make a game out of spotting the next marker.  Every time someone says "Marker!" someone else yells out "Polo!"  Lame, but fun.
There are few places to get out and stretch since most of the area is mangrove islands.  The "small bays" on the charts sometimes aren't so small and can be 1 to 3 miles across.
Crossing a small bay
<![if !vml]>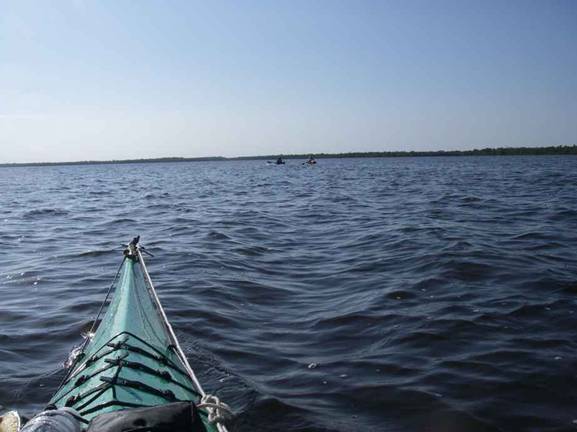 <![endif]>
Stop for lunch at Darwin's place where Tom has a great idea for a photo op:
<![if !vml]>
<![endif]>
After just over 19 miles we make it to our destination for night two which is Lostman's Five campsite.  There was already a group of five men there who were also out on a trip.  They had canoes and were having good luck catching all the trout they wanted just around the corner in a narrow channel.  The campsite has two 12 by 16 foot platforms to camp on since it is notorious for being wet and like all the islands out there, is forested with mangrove trees that protect the camping area.  We really enjoyed this site for ease of camping and getting our kayaks in and out.  We had a clear sky that night and someone commented "I've never seen so many stars!"  That is something I always look forward to when camping away from the city lights.
The noise that night with 8 tired men snoring probably scared away most of the wildlife except for the rats we saw scurrying around.  Be careful when camping, raccoons are a nuisance but the rats will diligently gnaw though anything as they did with the canoeists' dry bags.
The narrow areas were most enjoyable
<![if !vml]>
<![endif]>
Lostman's Five campsite
<![if !vml]>
<![endif]>
Day Three:  Launch around in the dark.  My favorite time to be paddling is when the sun is coming up.
Beautiful sky looking out over Two Island Bay.
<![if !vml]>
<![endif]>
Day Three Sunday, February 17, 2008  – 22.5 miles
<![if !vml]>
<![endif]>
We got real good at spotting the markers and had a good paddle day.  The winds were pretty brisk as they were for most of our trip.  When we made the turn into Broad River we figured it would be nice to have the current with us but we were wrong,  Even though low tide at the mouth of the river at the Gulf was around 11:30 am, we fought the current all the way to the camp site – from around 11 am until our arrival around 1:30 pm.  As we arrived, I think the current had just stopped and was getting ready to change direction.  An experienced boater we met at the campsite told us he has never really figured out the currents going into the back country – really dependent on the winds and moon phase.
Arriving at Broad River camp site.
<![if !vml]>
<![endif]>
Broad River campsite is great if you have a power boat but is not friendly for canoes and especially kayaks.  The camping area is nice and I think this would be a great spot to spend several days –if you were in a motor boat.  At low tide the ramp is 3 to 4 feet out of the water and it isn't wide enough to pull most canoes through anyway.  Us kayakers went to the other side of the dock to find nasty mud and a steep bank but that was our only choice.  It was tough at high tide and plain stupid at low tide the next morning when we launched at
Day Four:  Up at , pack up, heat water for oatmeal, eat, pack the kayaks and we're off or not.  Like I said it was a nasty launch site (now it was low tide) and we took our time getting the kayaks into the water in the dark and dealing with the very slippery, deep mud.  Stew fell once while we were carrying my kayak but gallantly fell underneath it and let the thing land on his hip.  Nice guy and lucky he didn't get hurt.
Day Four  Monday, February 18, 2008  – 29.3 miles
<![if !vml]>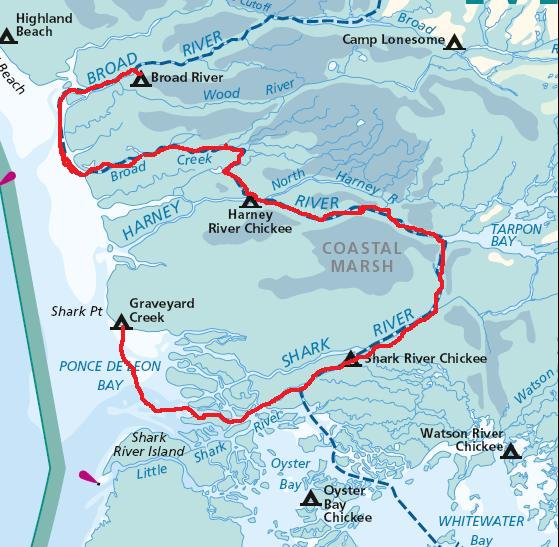 <![endif]>
It was extremely dark but we could just make out the sides of the river.  As we approached the Gulf coming out the Broad River, my GPS said to make a hard left but we didn't see an opening so we continued in the river.  We came to a dead end where it got very shallow.  Very frustrating being lost in complete darkness and disoriented because we can't see very far.  We could hear the Gulf and knew it was right there but we couldn't get to it.  We turned around and I saw what looked like a way out so I said I would scout it.  I came to a spit of land that was very narrow but the Gulf was just on the other side!  As I was looking for any opening I heard that awful crunch, grind, then my kayak comes to a dead stop.  I hit a bad oyster bar and knew it did damage to my kayak.  I slowly backed out and didn't feel any water coming in so that was a good sign.  We continued backtracking and found a bend and low and behold, we finally see the Gulf and head out into it.  I guess we didn't want the trip to be too easy.
Stew at – pretty dark out!
<![if !vml]>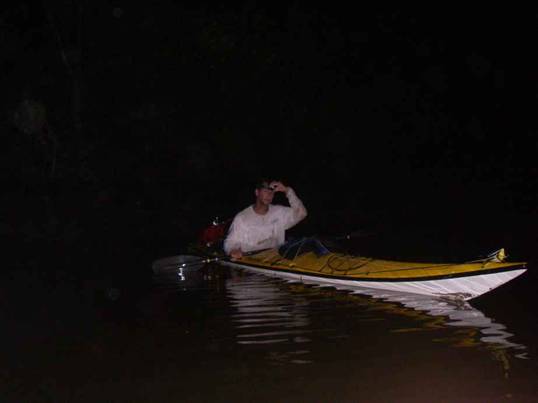 <![endif]>
We had 3 different routes to choose from this day.  Route one was direct to our next campsite – Graveyard Creek – around 10 miles.  Route two was to Harney River Chickee and then back out into the Gulf to Graveyard Creek – around 17 miles.  Route three (the one I secretly wanted to do) was around 29 miles.  We decide to commit to route two and make a decision once we reach Harney River Chickee.
The waterway started to narrow and became more interesting but as it kept on getting more narrow, we all became concerned.  I checked my GPS and we were exactly where I thought we should be so we continued.  It got so narrow and overgrown that at one point, we couldn't turn our 18-foot kayaks around even if we wanted to.  This was a pretty cool part of the river.
It was low tide and we were riding over roots and fallen trees in a very narrow waterway that left no other way but to just try to go over whatever was under the water.  Sweating and cursing we trudged our way though that mess.  We were getting slapped in the face by branches that when bent would fly back at you once it left your paddle.  They were amazingly rubbery.  Sticks and branches would poke us from all angles and get our heads, shoulders and arms while our kayaks would get stuck on logs and roots – yes, we were still enjoying ourselves most of the time. 
I had to stop several times because branches hooked through my bungee chords and deck lines and pinned me.  Finally we broke though to the other side and it became less narrow.  I can't imagine what the "nightmare" route must look like if this was the good area!  This made the day's paddle a lot more interesting even with the difficulties it presented.  I was glad we encountered it – especially when we made it out the other side!
Broad Creek gets very narrow and very difficult to navigate at low tide.
<![if !vml]>
<![endif]>
When we get to the Harney River chickee I paddle up to it and look at it wondering how the heck would we have used it with our kayaks.  It was four feet above us with a wood ladder with barnacles on it.  Just then the water right in front of me starts bubbling and wooosh, whooosh, brown mud is being boiled up to the top!  Something large is right next to me and it starts coming right for me.  I let out a little helpless scream, well let's call it a yell (real men don't scream) and whatever it was goes right under me leaving me rocking side to side.  It had to have been a manatee or some kind of sea monster…  Stuff like that happened throughout our trip to Stew and I and never to Tom.  Big fish would just explode as you paddled over them sometimes whapping our kayaks and scaring the heck out of us.  Especially heart pounding when it occurred in the dark.
Stew and I agreed to abide by whatever Tom wanted to do as far as route when we got to the chickee.  We were all tired and it was a windy day and the currents had been against us so far.  Tom says "Let's do the long route" and my heart jumped for joy because I really wanted to hit all the markers for the Wilderness Waterway.  I was also weary due to lack of sleep and the amount of effort this trip was taking out of me.  We all felt the same way.  Tom said "This trip is a lot harder than last year" – we did the entire Suwannee River last year at 235 miles in 8 days but it was cold out and we had current with us the whole way.  Stew was a trooper – he was also tired and having to do a little more work because his kayak did not have a rudder.
Although I was happy with the decision to keep on the "righteous" path I must say that at the point where I knew we still had 12 or more miles left I was feeling mighty depressed.  We stopped for lunch and then I felt much better – must have needed the energy boost after all that struggle.  Of course when we turned the corner and expected to have a free ride out to the Gulf in the Shark River, the current was once again against us even though we knew the tide was falling and it should have been pulling us out.  The winds also kicked up a few notches and it made for a long day.  If we stopped paddling we would come to a stop pretty quickly and start drifting backwards.  We were still having fun but didn't know it at the time!  Tom kept saying "Look! The tide must have reached its peak and will start falling now" but we could see the leaves and ripples along the mangrove roots that told us the current was still against us.
We make it out the Shark River just as the current ebbs and then we have a 3-mile paddle across Ponce de Leon Bay to get to Graveyard Creek campsite.  Stew was having difficulty trying to keep his rudderless kayak on track with strong winds and 2 foot chop both quartering from behind.  We make it, tired and beat.  At least the wind kept the bugs down to a minimum – that area is known for having a lot of no-see-ums.  This campsite is pretty neat because it is along the Gulf but also near the waterways that lead inland.  It feels like a beach campsite but is designated as a ground campsite.  If you arrive or depart at low tide, you may have problems negotiating through the mud flats.  We set up camp, cook dinner and hurriedly head to bed because we have another adventure planned!!!
Stew walking up to Graveyard Creek campsite after a rough 29-mile day.
<![if !vml]>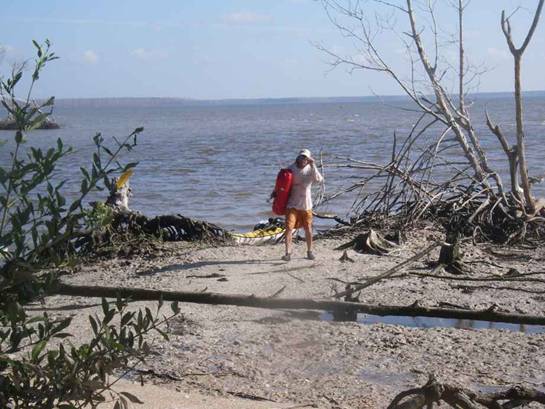 <![endif]>
Day Five:  Tom's Birthday!!  Number 59.  Up at and Stew and Dave sing "Happy Birthday" to Tom while loading the kayaks for an all-night paddle via Whitewater Bay to Flamingo.  We were worried about the winds but they seemed to be tapering off and Tom gives us the go-ahead.  Again Stew and I decide to abide by Tom's judgment and Stew said "You're kidding, right?" as Tom and I get up and tell him it's a go.  Stew did not want to do the length of Whitewater Bay in those winds (remember he does not have a rudder) from yesterday and surely did not want to attempt it at night under windy conditions.  As it turned out, it was a great decision to go.
Day Five  Tuesday, February 19, 2008   – 25 miles
<![if !vml]>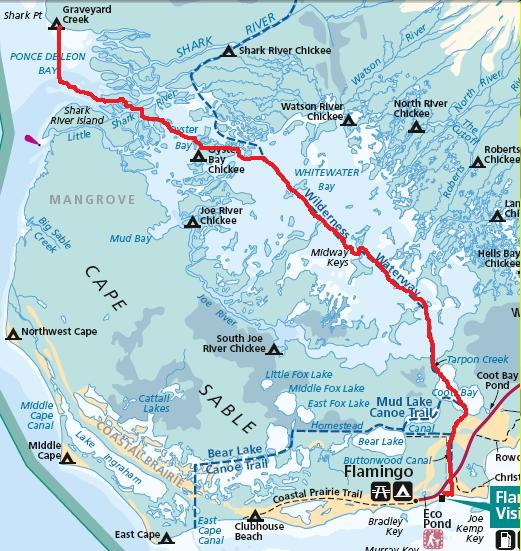 <![endif]>
We launch at and paddle across Ponce de Leon Bay.  We had nearly a full moon but it was cloudy that night and we didn't get much help from the moon.  We paddled with our headlamps on and I had to leave mine on red lamp so I could see the map and GPS – the white LEDs reflected too much off of my GPS case.
Once we were underway we noticed the wind was dying down significantly.  We paddled close to 3 miles south across Ponce de Leon Bay and entered Oyster Bay through one of the many rivers leading in from the Gulf.  Around it is still very dark (darn clouds!) and as we make it into the open Bay we hear a very loud snap! bang! and I am very concerned because it came from the rear of my kayak!  I had run over something and it retaliated by slapping the rudder section of my kayak – very hard.  I asked Stew to check to see that my tail section was still in one piece and it took some time for my heart to stop pounding.  Never saw what hit me but someone suggested maybe it was an alligator or crocodile and it had hit me with its tail.
Stew and I continued getting surprised by large fish exploding as we came upon them.  We kept hoping it would also happen to Tom but I don't think it did.  When you're out there in the middle of absolutely nowhere, in blackness, and something big hits your kayak or stirs next to you, I can tell you it gets the juices flowing!  I also had several smaller fish jump onto my kayak and one even got stuck on my kayak skirt – I almost got it but it slipped out of my hands.
We were following a course I had set on my GPS and used before that would take us by Oyster Bay Chickee and then hit all the markers leading us through Whitewater Bay and eventually into Coot Bay and the Buttonwood canal to Flamingo.  It was a neat feeling being out on such a dark night but also very eerie.  We could barely see the outlines of islands and the distant red light flashing at the Flamingo cell tower every now and then.  We noticed that same light is flashing white in the day time – had us confused for a while.
This is all we could see – and that was with a flash!
<![if !vml]>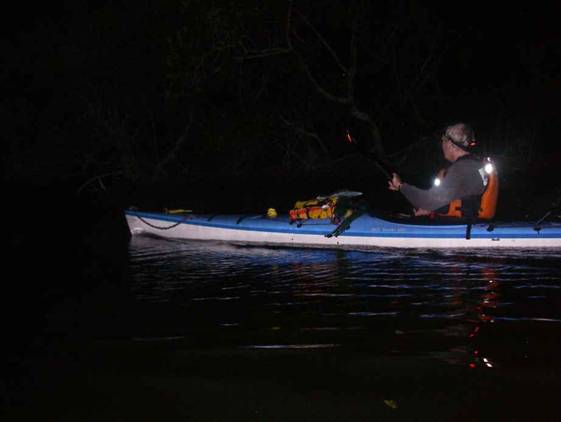 <![endif]>
We make it to Oyster Bay Chickee around and were trying to determine if anyone was there.  We finally got close enough to see a boat and then we could hear people talking in their tent.  If it were me on the chickee I would have been pretty nervous hearing someone or something in the water at .  We decided to leave them in peace and headed for Whitewater Bay.  My GPS was perfect as far as getting us to the markers.  It felt real good to shine our headlamps and see a marker a tenth of a mile away and then paddle right by it.  Much to the chagrin of my fellow paddlers, I found that I get vertigo when paddling at night with no visible target to paddle towards.  I kept turning left, right, and the wrong way while trying to follow my GPS and compass and causing Tom and Stew to say many times "Are we supposed to be turning now?"  I finally pulled up my rudder so I would quit over-steering and that helped a lot.
We are making good time and are happy with our progress as well as the lack of wind and good weather but we are noticing that it is getting darker – if that was possible.  At one point we turned off our headlamps and you couldn't see the front of your kayak!  It started to sprinkle a little and we could see these huge shadows of clouds moving in and blocking out what moon light there was.  The all of a sudden FLASH!  KABOOM!  Lightning and we're 8 to 10 miles from shore.  I hate lightning and to be in the middle of a huge bay where you are the highest point didn't make me feel any better.  On the positive side, when the lightning lit up the sky it was awesome to see islands and land masses in the distance as clear as day but then they would disappear as fast as they appeared.  I guess we had lightning for maybe an hour and that made for stressful paddling especially when we couldn't see anything in the darkness that enveloped us.
The sun finally started showing as we made it into Coot Bay near .  The lightning was gone and a new day was dawning.  Cloudy and overcast but still a beautiful sunrise which was a little more special this day.  We made it to the marina at the end of the Buttonwood Canal just before .  We were thrilled but also getting chilled – a cold front was coming through.  We carried our kayaks to a grassy area and promptly walked to the marina store and washed up in the men's room.  Then we got some hot coffee – yummy.  The guy who worked at the marina offered to ferry our kayaks to the camping area with their truck and we were very thankful- we would have had a long portage and another mile of paddling to get there.  We had to wait for a nasty squall to come through – the last before the calm, cooler weather behind the front.  They told us they had very bad weather in Flamingo all night – we couldn't believe how lucky we were to have been in Whitewater Bay – just 5 to 10 miles away with only a hint of bad weather.
We set up camp around at the Flamingo campground in the area I thought was group B.  Of course after we were done setting up the park ranger comes by and tells us we missed it by maybe 50 yards and had to move.  We were very tired but accepted our fate with a happy attitude.  Tom was taking a shower at the restrooms which were very close – part of the reason for choosing this site.  When Stew and I walk up to take our showers a few minutes after Tom got back, the door to the bathroom was locked.  A worker told us there was a break in the water main and they had to shut off the water.  I asked if they could turn it back on for 30 minutes and they said "sorry."  We laughed it off because we just were having too much luck with the ride to the campsite and such.  The next bathroom was about a quarter mile away and heck, we needed more exercise anyway.
Flamingo Campground
<![if !vml]>
<![endif]>
We made several walks to the marina store for snacks and dinner – it is around a mile one-way but we had all day anyway.  It was nice having down time.  We did a proper celebration of Tom's 59th birthday complete with a musical candle, brownie cakes and presents.  Then it was time for bed by .  No one stirred until after the next day.  It was the best night for sleeping due to the cooler weather which only lasted that night and part of the next day.
Day Six:  In the morning I notice that I can see a white glowing line when looking into my kayak's cockpit from the morning sunshine reflecting through the bottom.  I didn't want to know but found out after our trip that it was where I had hit the oyster bar when trying to find a way out of the Broad River in the dark.  It cut through the gel coat and lightly frayed the kevlar cloth – pretty easy repair but if I had hit a little harder…
Day Six  Wednesday, February 20, 2008  – 21.4 miles  Note squiggly line
near Flamingo where we got stuck in the mud then headed back looking for Stew.
<![if !vml]>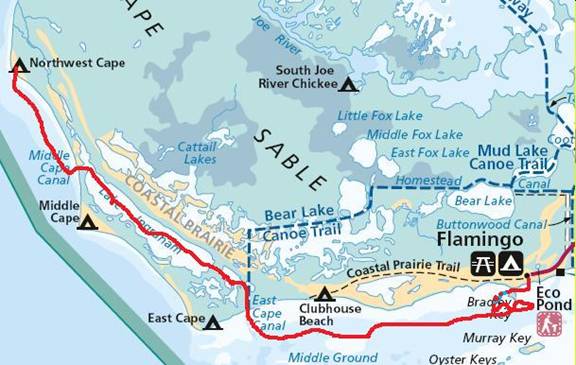 <![endif]>
This is going to be our first easy day – late start and leisurely paddle.  I suggest we go out the marked channel so we don't get stuck in the mud.  The Flamingo area is notorious for its mud bars and it is no fun trying to push or pull yourself through that muck.  Of course Stew says "Let's go this way" along the shoreline between Bradley Key and shore.  I knew better and even told him that if we get stuck it is all his fault.  So guess what?  We get stuck in the mud.  Not just a little stuck but you could feel that mud sucking onto the bottom of your kayak and literally see the water still going out.  In an hour we would be on dry mud.  I panic and get out and start sloshing through the mud.  Tom did the same but what became of Stew?  He turned back and got stuck several times but finally made it out the channel which we should have taken anyway.  Tom and I made it out after about 20 minutes of hell in the mud.  That gets your heart a thumping! We didn't see Stew for quite some time so we paddled back towards the marina in the deep water and met him as he was making the turn from the channel.  Together again at last.
Tom in the Mud near Flamingo – ughhhh!
<![if !vml]>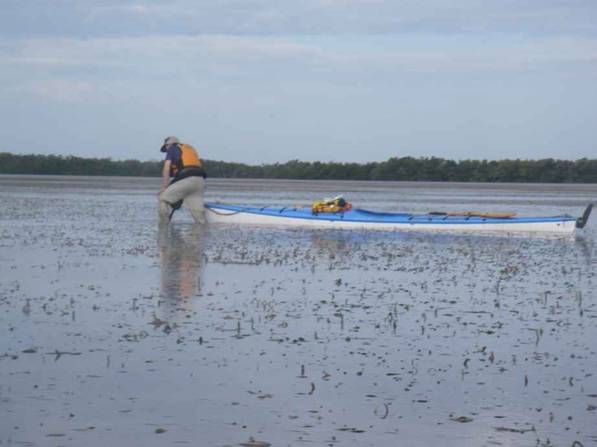 <![endif]>
It was yet another windy day with 2 foot plus chop washing over us from the rear.  I started to surf some of the waves and was having fun with it and even got some long rides that paid for all the effort I was expending on trying to catch them.  We stopped at Clubhouse Beach for a break.  Clubhouse beach is a campsite but doesn't have a lot of area to set up a tent.  It is also very buggy in the warmer months – a nice place to stop but I'd recommend camping at a beach site more open to the wind.  There is a prairie behind the beach and it was very green and picturesque. We got to see a Bald Eagle up close when it landed in a tree close to us.  That was neat.  Every day on our trip had something special happen that made the trip more memorable.
We decided to take Lake Ingraham to get out of the wind and chop but also because it is a neat place to paddle through.  We hit it just right and the tide pushed us into the East Cape Canal and towards Lake Ingraham.  We saw some guys on a boat with something big pulling down a rod.  They said they thought it was a shark but we didn't hang around to see what they pulled up.  The winds were reduced drastically and the current was with us for a change.  Lake Ingraham has a narrow waterway with markers to show you the way.  It gets very shallow and large areas that were underwater at high tide become mud flats at low tide.  Lots of birds come here for food during low tide.  We saw a flock of what seemed like thousands of wrens turning all in unison.  As we got closer you could hear the noise from the thousands of tiny wings.  Another cool thing.
We eventually emerge out of Lake Ingraham just north of Middle Cape Sable and our timing was good because we hit the tide at or near ebb.  The current can be so strong as to prevent paddlers from getting out and I've heard stories of them getting "sucked in" and having to wait for the tide to change before being able to paddle back out.  We paddle along the coast which looks like it was hit by a bomb and/or up north in the winter time when the trees have lost all their leaves.  This is due to the hurricanes of the past several years – the trees (especially along the shoreline) were bent by the winds did not recover.  I'm sure the water from the storm surge also contributed to their state.
Somewhat barren but pretty shoreline
<![if !vml]>
<![endif]>
We made it to Northwest Cape Sable around .  This campsite is a nice beach campsite that does not leave you stranded at low tide.  It was still very windy with clouds overhead so we put a tarp down in a gully that runs the length of the beach between the higher sand bank and the interior of the cape that is filled with shrubs, trees, and green ground cover.  This gave us enough protection from the wind so we could cook.  All of us prepared our own meals, cleaned up, sat around and talked for a while and then off to bed.  Didn't get much of a sunset with all the cloud cover that evening.
Day Seven:  Up at and it is dark but with the clouds breaking up we could see the moon peek out every so often.  It was just like in one of those werewolf movies – how the moon would appear and then disappear.  We were treated to a splendid sunrise however.  That's the kind of thing that helps you remember why you are out there in the first place and you wish you could share that feeling with others.
Moon at
<![if !vml]>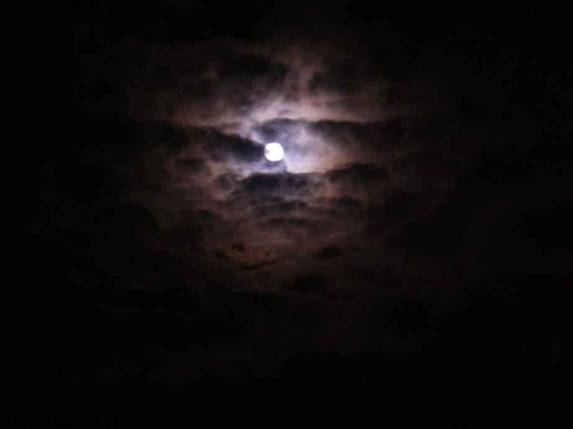 <![endif]>
Sunrise at NW Cape Sable
<![if !vml]>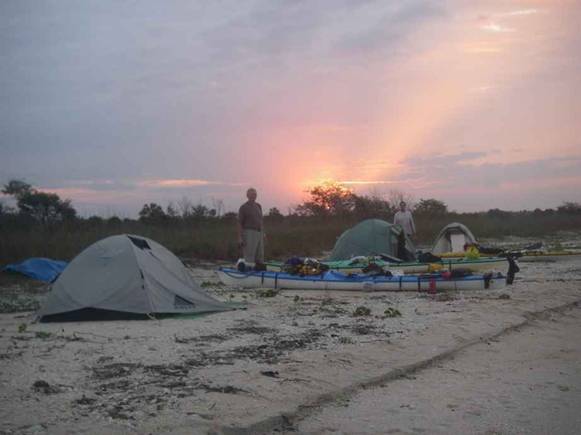 <![endif]>
Day Seven  Thursday, February 21, 2008   – 19 miles
<![if !vml]>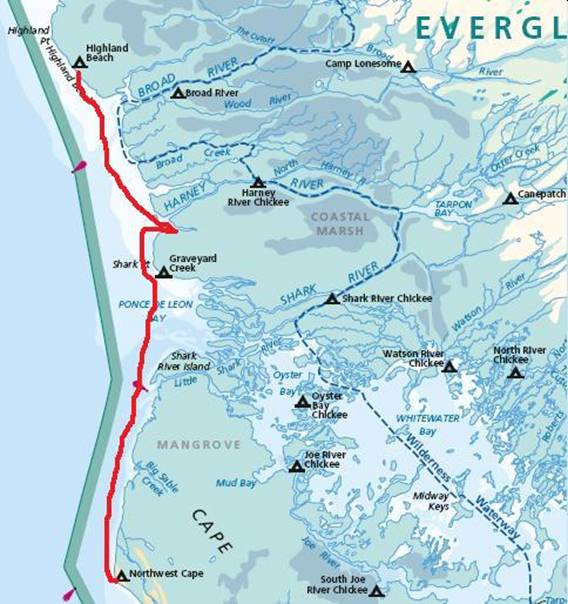 <![endif]>
No rush and we leisurely launch by after making breakfast and I was out fishing for an hour.  We didn't have any luck at fishing on this trip but this area is full of fish if you fish at the right locations.  Our destination today is Highland Beach and we decide to take a straight route across Ponce de Leon Bay.  A lot of paddlers have told me they won't cross that bay in windy conditions but we didn't think it would be too bad.  Had chop occasionally braking over our kayaks so we all had our skirts on as well as our pfds.  Stew tended to hug the coastline to keep out of the wind.
Stew passing more dead trees that line the water's edge
<![if !vml]>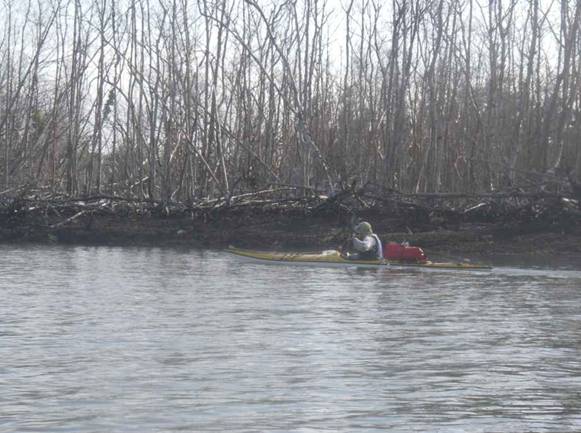 <![endif]>
Break time out of the wind
<![if !vml]>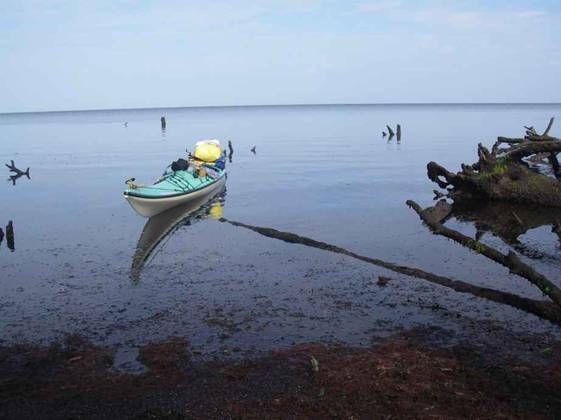 <![endif]>
We get to Highland Beach around at high tide which was very good because at low tide you can't get to the beach.  There are mud flats that can go a quarter mile out at low tide and the mud there is the nasty kind that sucks your feet and legs down and is knee to thigh deep.  It was so windy that we lined our kayaks sideways along the beach and placed our tents behind them.  I had to tie my tent to my kayak because it kept collapsing in the strong wind.  Stew and Tom have better tents than I and theirs did okay.
Highland Beach
<![if !vml]>
<![endif]>
Tom and Stew erected a wind break so we could cook and get out of the wind.  It did feel nice to duck behind it for a break.  Also made dinner easier to fix and eat.  It was an especially easy dinner for Stew and I because Tom said "I'll make dinner for everyone" – no argument from us! 
After dinner a couple strolled up – they were camping for 4 weeks or so with a sailing canoe.  Very nice people from Ohio who have the winters off due to the nature of their business in construction.  We were all envious of their being able to be off for such a long period of time.  They told us that that area has deer and other animals that walk along the beaches.  We didn't see any but you could see their foot prints.
That evening we were treated to a spectacular sunset and we all watched for the "green flash" that we've heard about.  As the last of the sun disappeared below the horizon, we watched, but no green flash.  Others we met at Lostman's Five campsite said they saw it when they were on the coast.  Oh well – still a nice way to end the day.  I think Highland beach would be one of my favorite campsites especially if I was going to spend a few days out there.
Sunset at Highland Beach – note the mud flats that protect the beach
<![if !vml]>
<![endif]>
Day Eight: Before we went to bed we noticed how far out the water went at low tide and figured the next low tide was going to be around 8 am so we planned to be under way before having to sluff our kayaks through the mud.  Loose plan was to get up around but if anyone was up before then and noticed the tide getting low to sound the alarm.  As it turned out, both Tom and I were up around and both of us put a marker at the water line.  At again, we both looked out and saw the water about a foot from the markers so we decided it was time to get moving.  It didn't feel bad because it is hard to sleep while camping and we get to bed very early anyway.
Day Eight  Friday, February 22, 2008    – 31 miles
<![if !vml]>
<![endif]>
Tom mentioned that if we were making good time that maybe we could skip the last night planned for Pavilion Key and end our trip a day early.  It was a great idea because we got to go home early but also the days were getting warmer – even hot - and we would avoid a sweaty night.  It is always neat to be paddling in the dark knowing that the sun will be coming up soon.  We launched close to and paddled for 2 hours before seeing the sunrise around .  We paddled the first hour and a half aiming toward a red blinking light on a buoy – that helped me to keep a straighter line since without a fixed point I tend to be all over the place.  Once we got closer to the buoy we made a turn to stay somewhat closer to the coast although we were pretty far out most of the time trying to go in a straight line to Pavilion Key.
We were once again rewarded with a spectacular sunrise – there is nothing like seeing the sunrise when you are out in the water on a very dark night.  By we make it to our first stop for a break at North Plover Key.  There are two islands – North Plover Key and Plover Key.  We could see that the tide was going out because our kayaks kept getting higher out of the water where we had beached them.  The sand bar was nice because it was actually sand and not mud.  There were all sorts of little mollusks and shells scurrying along.  We picked up a few and were pleased to see snails in them – we usually see crabs (not the original owners) or they are empty when you find them nearer to populated areas.  We also found a bunch of bleached-out sand dollars – some of which I collected and hope to preserve with a fiberglass coating since they are very fragile.
Sunrise along the Gulf
<![if !vml]>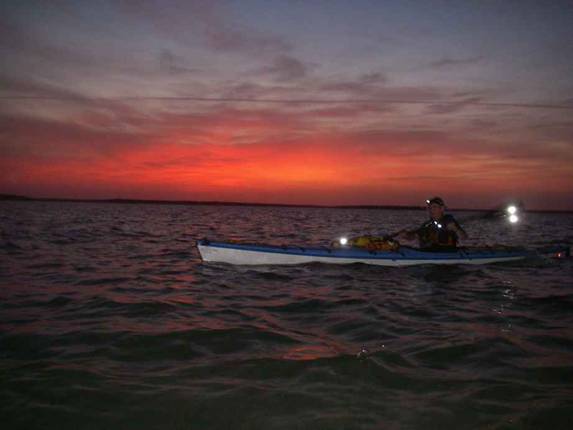 <![endif]>
Break at North Plover Key
<![if !vml]>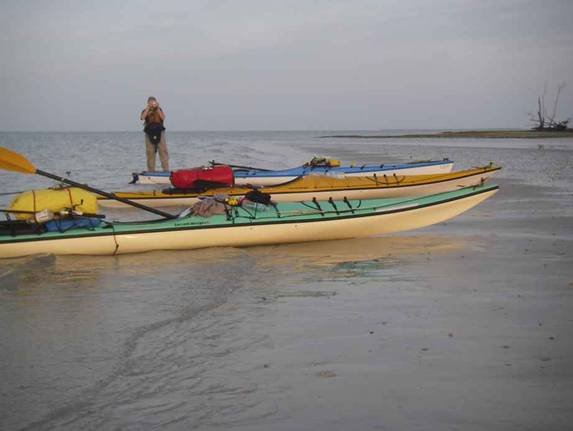 <![endif]>
We were making great time and got to Pavilion Key at .  The last mile was very tough because the tide was still going out a little and our route took us between some islands which made the currents flow stronger in the channel we were in.  I was hot and took a dip but had to be careful because there was mud just off the beach and it again was the nasty kind that goes up to you thighs if you try to stand in it.  The cool water was very refreshing though.  We see that the tide has stopped and is reversing so we are happy and decide to do the final push for home – Everglades City – around 11 miles more.
The tide is with us and we get good current as we paddle toward the maze of mangrove islands that hide Chokoloskee Island and the rest of the mainland.  I had been here before and used my map and compass to navigate – no need for my GPS but I kept it handy.  We stop at Turtle Key for our last break and enjoy the white sandy beach and the view of the mangrove islands in the surrounding area.  Again we set off and finally, we see Chokoloskee Island through the islands!  The current is well with us now and we are cruising – at one point I looked at my GPS and it was reading 7.2 mph as we were rounding a corner of Chokoloskee!.  We had to be very careful as we approached Chokoloskee because of the oyster bars so we followed the markers for the boats once we exited the maze.
We can See Chokoloskee Island!
<![if !vml]>
<![endif]>
Next stop is Everglades City where we had begun this odyssey 8 days previously.  Tom and Stew seem like they are in a race – they are paddling so fast due to the excitement of finishing.  I say "Hey!  Why are we racing?" and they slowed down a bit.  I was glad because I was tired.  Very tired.  We arrive at our destination at to find numerous cars, trucks, and trailers full of people going out in canoes and kayaks.  Luckily we hit a lull and we got our kayaks up and our vehicles backed down so we could off load the kayaks and load up the trucks.  Stew and I marveled at how we got all that stuff that filled the back of his truck into two kayaks.
Tom in celebration pose at Everglades City – Gulf Coast Ranger Station
<![if !vml]>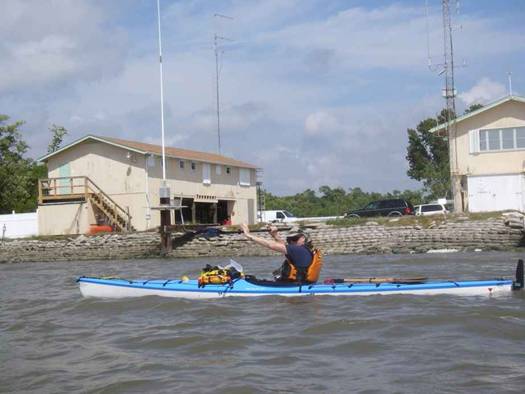 <![endif]>
Truck load of "stuff"
<![if !vml]>
<![endif]>
We get all of our stuff packed up and the kayaks secured on the top of the trucks then go clean up as best we can in the men's room.  We all had brought a change of clothes.  Now for our victory lunch at the Triad restaurant in Everglades City.  It was a great meal – not only because we were hungry but it is a good place to eat.  After lunch Stew and I said our goodbyes to Tom and we parted – Tom began his 1700 mile trek back to Wisconsin and Stew and I drove back to Palm Beach county at less than 150 miles.
Tom and Stew at lunch
<![if !vml]>
<![endif]>
It was a great trip with great friends/athletes that come together for these special occasions.  It was also a lot of work – we didn't know how hard it would be dealing with the tides and wind but especially the heat factor.  We are very happy to have done it but for now on we will plan any marathon type kayak trips in more northern areas that have cooler weather!  Maybe the Suwannee River again.  I know in a month or so I could be talked into a 3 or 4-day trip back to that area but winter is slowing moving out and I would not go down there in the summer with the heat and bugs.  Maybe next winter…  My advice to anyone thinking of doing any part of the Wilderness Waterway is to do it!  Just know your limitations and be safe.  Maybe do a few smaller routes and build up if you want to do the whole thing.  If you have the luxury of more time that would also be helpful – we do these kind of trips in a compressed timeframe due to our limited vacation days since we are in the "working class."